Dear members and friends of animals,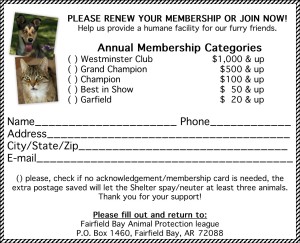 The Fairfield Bay Animal Protection League (APL) is in need of funds to continue our mission to provide a warm, clean environment, food, medical attention and love to the homeless and stray cats and dogs in the Bay. We are hopeful you will renew your membership or join us as a new member.
Our costs can range from $4,000 to $5,000 each month for equipment repairs/replacement, salaries, veterinary care, litter, food, and cleaning supplies. This summer our heat and air systems were beyond repair and we had to replace the unit, boarding out all the animals while the work was being done. It was very expensive; a very real jolt to our financial situation.
We urgently need you to consider donations, memorials, contributions and memberships.
Our successes have been many this year. The Cat Hotel is now a larger room with two big windows, cat trees, carpeted climbing ramps and lots more room to play Our new infirmary was completed this fall, with both projects privately funded by a member of our community.
We are pleased to share 171 happy "tails." There were 36 adoptions, 125 pets accepted by rescue organizations, three reclaimed pets and seven "trap-neuter-release" cats. Our euthanasia was the lowest in years at 41. most as a result of a highly contagious bacterial infections which could not be contained. It was devastating for all of us. Our quarantine procedures have now become even more stringent.
More than ever, support is needed from our community. Your kindness and generosity will be felt by all our precious animals for whom we are so passionate. We hope you will find that passion in your hearts as well.
We ask that you complete the form ABOVE and return it to us. There are several levels of giving. Your donations are tax-deductible as we are a 501(c)3 non-profit organization. We thank you for your consideration and continued support of this important part of our community.
Best wishes for a blessed New Year from all of us at APL; the shelter staff and all the dog, cats, puppies and kittens that need your help.
Linda Ritchie, Secretary Fairfield Bay Animal Protection League