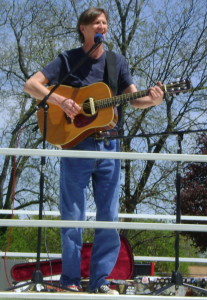 Some people have inner-kids. Andy Offutt Irwin has an outer-kid. With a manic Silly Putty voice, astonishing mouth noises and hilarious stories, he is equal parts mischievous schoolboy and the Marx Brothers, peppered with a touch of the Southern balladeer. People are drawn to him like magnets to a refrigerator. And inside, it's all Mountain Dew and Jolt Cola.
A native of Covington, GA, Andy is a storyteller, humorist, singer, songwriter, musician, whistler, walking menagerie of sound effects, dialects and so much more; some of his talents are hard to categorize.
In storytelling circles, he is especially known for relating the adventures of his eighty-five-year-old-widowed-newly-minted-physician-aunt, Dr. Marguerite Van Camp, a woman who avoids curmudgeonship by keeping her finger on the pulse of… well herself, but also the changing world around her. She steps lively through it, loving as many people as she can.
As a result, many people love Andy. Irwin was awarded the 2013 National Storytelling Network Circle of Excellence Award, and all five of his storytelling CDs have won Storytelling Word Awards. He has appeared five times at the National Storytelling Festival, and July of 2013 marked his seventh year as a Teller in Residence at International Storytelling Center; he has been a Guest Artist at La Guardia High School of Art, Music, and Performing Arts in New York (The "FAME!" School); and he has been a Keynote Speaker/Performer at the Library of Congress-Virburnum Foundation Conference on Family Literacy.
Andy also does occasional theatrical projects for Oxford College of Emory University, where he was Artist in Residence, 1991-2007. (He is now an Artist-in-Just-Passing-Through).
Early in his career, Andy performed with the comedic troupe, SAK Theatre at Walt Disney World, 1984-1989. These days, he tours with Cathy Fink. He tours with Suzi Whaples and Brent Holmes as the "Southern Comedy Tour." He tours with the Kandinsky Trio. He tours with Bil Lepp and Kim Weitkamp as the "Uncalled for Tour." And, of course, he tours alone with his one-man show extravaganza. He does many different educational programs and camps for children too, where he focuses on literacy, storytelling, music and taking care of the environment … among other things.
Andy proudly holds a BA in Sociology from Georgia College &/or State University. They handed it to him in 1983.