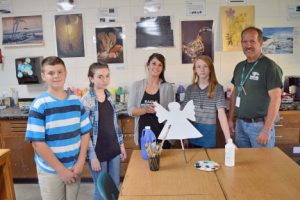 Pictured are (from left) Logan Perkins, Whitney Hickey, Art teacher, Brittany Madalone, Jacob Bles, and Welding Instructor, Randy Carr showing the EAST at West Side prototype of one of the many angels to be adopted and placed in the outfield in memory or support for the upcoming Christmas in Greers Ferry project. Mr. Carr's welding classes are making the angels and Ms. Madalone's art students are painting them. Each angel will say either "In Memory of" or "Merry Christmas from" with the name of a loved one or the donor's name.
Thanks to the hard work of these three EAST students, with the support of the Greers Ferry A&P Commission, the City of Greers Ferry and the Greers Ferry Chamber of Commerce, this EAST idea of celebrating Christmas as a community is coming to realization.
Anyone wishing to adopt an angel may pick up an order form from a business displaying the Celebrate Christmas in Greers Ferry Poster or contact Heather Garrett at Souvenir XtraOrdinaire. Proceeds will be used to expand this celebration next year and hopefully make it a self-sustaining annual event.
The official Christmas Tree Lighting Ceremony will be Saturday, December 3, at the Greers Ferry City Park at 6 p.m. The West Side High School Band and Choir will play Christmas music, a Live Nativity Scene presented by the West Side FCA will be featured, and of course, there will be Santa and Mrs. Claus.
The next two Saturdays will again feature the Live Nativity, Santa and Mrs. Claus, and caroling by local church choirs. Each Saturday's events will run from 6 until 9 p.m. The concession stand will be open and serving hot chocolate, cider and homemade treats from our local churches.