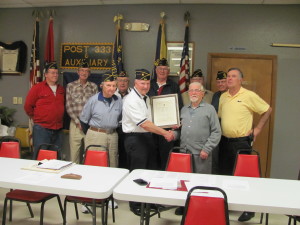 On Monday, April 1, 2013, the Fairfield Bay American Legion, Post 333, held their regular monthly meeting. In addition to the members present, they were honored to have Mr. Olin G. Staton present.
Following the business portion of the meeting, Mr. Stanton was honored by the group in recognition of his 50 years as a member of the American Legion, with the presentation of a framed Certificate presented by Commander Lee Johnson.
Mr. Staton served in the U. S. Army for 21 years, attaining the rank of Chief Warrant Officer. During that time, he served in three combat zones.
The first was the Occupation of Europe in the 1950s, where he was stationed in Frankfort, Germany. His next was in Korea where he served for 18 months during the 1960s as a pilot of a twin-engine Cargo Helicopter. The last was in Vietnam for a year from 1965 – 1966. He had two assignments while in Vietnam; he was a member of the Assault Company and Special Forces. During that time he flew a Huey helicopter and was based out of Vungtao. While in Vietnam, they built a sea port, highways and air fields to land transport planes.
Mr. Staton said, "War is not a great thing, you have to be there to witness and experience it". He went on to say he fought with a terrific bunch of soldiers.