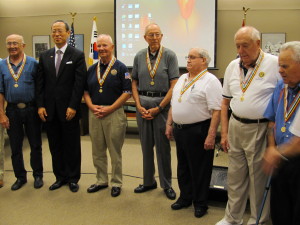 On July 11, 2014, three of Fairfield Bay's Korean War Veterans responded to the invitation from the South Korean government, through the Korean American Federation of Arkansas, to be present at a dinner they were giving to honor these brave veterans in Little Rock, AR. Those three were, George Gerndt, Gene Kortz and Lee Johnson.
The Ambassador from South Korea, Park Suk-Bum, was present, with other dignitaries from South Korea to honor those who attended, whom they considered their heroes. Prior to making the presentations of the Ambassador of Peace medals, they had a movie of pictures showing various events before, during and after the Korean War. A dignitary from South Korea, Dr. John Park, read a proclamation in Korean and translated by, Dr. NoGon Heo, for those present who did not speak the language. Following was their greeting.
"We Korean-Arkansans really appreciate the Korean War Veterans for your sacrifice for Korea. Without your sacrifice, today Korea prosperity was impossible. We never forget your love and devotion on the best time of your life for the endangered Korea.
"Today let us serve you as you served us. Our service can't be compared with your service for us. Even though this is so tiny gift for you, we would like to feel a smile on your heart. We love you. May our Lord bless you, America and Korea forever."
Many South Koreans who live in AR were present to honor these veterans. Dinner was served, consisting of Korean foods. It was an experience sampling these delicacies. Some were very good while others were strange to the taste and a challenge to identify what was in them.
Following dinner, the Ambassador announced that it was time to present the Ambassador of Peace medals to those veterans present, which numbered approximately 25. As each veteran's name was called, they went to the front of the room to have their medal placed around their neck by the Ambassador. In my mind's eye … it was like seeing these veterans, as they were then, young men ages 17 and up, when they went to this strange country to defend democracy for these people. They didn't know them, nor could they speak their language, yet they willingly and bravely went to defend them, without question.
Judy Johnson, District 2 President
American Legion Auxiliary