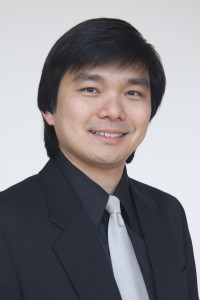 A native of Malaysia, Alfred Soon-Chye Lee began his studies of music at the early age of eight years old (on the organ), and three years later won his first competition (a National Electronic Organ Competition) in Malaysia. At the age of 18 he received his music theory diploma from the Associated Board of the Royal School of Music (ABRSM) in London and left his home country for the United States of America to further his studies at the College of Music, the University of North Texas (UNT). He did this on the urging of his music teacher in Malaysia, who was positive great things were in his future.
Armed with a partial scholarship, and as much money as his family (of limited means) could provide, he arrived in Texas knowing no one, but with a huge determination to "make it" because his father said he could not do it, but that inner voice said he could. He was nominated to be among the most outstanding students of the class of 1994 in Pi Kappa Lambda, a prestigious honorary music organization. In 1995, he graduated from UNT with honors, Magna Cum Laude, with a major in Music Composition and a minor in Music Theory, concentrating on Harpsichord and Voice. He was offered, and accepted, the position of Director of Instrumental Music at Trinity Episcopal Church in Carrollton, TX. He held this position for the next five years (1995-2000) while getting his post graduate feet on the ground and planning for the future.
Through the years Mr. Lee has held various Directorate positions and has completed numerous commissioned works.
He has performed recitals and conducted seminars in Europe, Asia, Australia, the Bahama Islands, Canada, and Hong Kong, as well as the United States, on keyboard, organ and piano. He has appeared in many high profile venues, among which are the Movie Studios at Las Colinas, TX; the Little Carver Theatre, and the Diamond Club at Rangers' Park in Dallas, TX, where he currently resides. He has appeared in the historical St Andrews Cathedral in Sydney, Australia during the 2000 Summer Olympic Games and the Dora Stratou Theatre by the Acropolis in Athens, Greece during the 2004 Olympic Games as well as several Symphony Orchestra venues, or he has had his works performed by the orchestra.
Dr. Lee was most proud to have his parents accompany him as he received a Doctorate of Music (Honoris Causa) from the Central Philippine University of Iloilo, Philippines. Additionally, he is most proud to bring his parents to visit Arkansas on their first trip to the United States in July, 2004. Not only will he present a striking Stars and Stripes Concert in Fairfield Bay, but will be happy to have his parents meet his Fairfield Bay family.
Please plan to join us for an afternoon of patriotic fun at the Performing Arts Theatre in the Fairfield Bay Conference & Visitors Center on July 6, 2-4 p.m. This event will be sponsored by the North Central Arkansas Foundation for the Arts and Education.