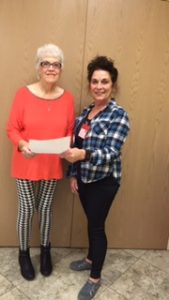 Martha Hurd has been with TOPS (Taking O​ff Pounds Sensibly) for several years but had to drop out for awhile. When she came back, Martha was determined to get to her goal weight. Martha says it was very important to her to get to goal because her doctor felt that she needed to lose weight. Martha says she feels so much healthier not carrying around the extra lbs.​ And we are so proud of ​ her achievement.
​TOPS is a very affordable weight loss support group in Fairfield Bay that has been around since 1978. When you join TOPS, the next time you have a doctor's appointment, you and your doctor determine what your goal weight should be. Then you learn in our weekly meetings how to make that lifestyle change happen. So many have found staying committed to weekly meetings even after reaching goal really helps, because they realize how quickly the weight can come back on.
TOPS has a lot of things going on outside of the weekly weigh-ins. There are fun days presented by TOPS chapters in different areas in Arkansas. Then once a year, SRD (State Recognition Days) is held so that those who have reached their weight goal can be rewarded by graduating to KOPS (Keeping Off Pounds Sensibly).
Also, once a year TOPS has IRD (International Recognition Days) and people from several countries attend this convention. It has never been held in Arkansas before but this summer in July, Little Rock will host this huge event for the first time. We are all so excited.
We will be so proud to have Martha Hurd from Fairfield Bay Chapter 0294 walk across that stage next year and graduate at IRD.
Want to join in on the fun and learn to Take and Keep Off Pounds Sensibly? Call Verna Hicks for more information at 884-3164.