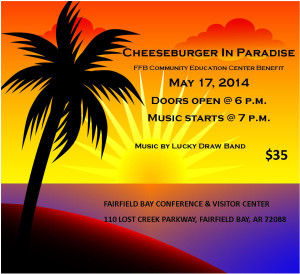 If any of you are trying to decide how important our Community Education Center is and whether or not you should support it by purchasing tickets to 'Cheeseburgers in Paradise' on the 17th, please read the letter below that our Ukrainian Egg decorator instructor, Chuck Dawson, received last week.
Hello Chuck,
My name is Darlene Bullinger. Late last August my husband, Joe, and I vacationed in Fairfield Bay. I took your Ukrainian Egg decorating class and loved it. We will be going back to Fairfield Bay the end of August again this year, and I was wondering if you still give the classes? If so, could you possibly give a class during the week of August 24th? This will be the first time we have ever vacationed in the same place twice. We truly enjoyed the area and the folks around there.
Tickets are just $35 each and are available at the City offices, the Conference Center, and from the Mayor and Aldermen. Thanks, Paul Wellenberger.