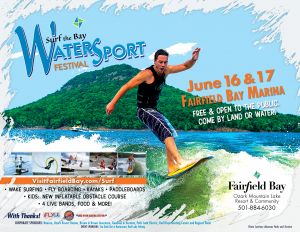 Fairfield Bay is making waves yet again this summer when they bring some fun extreme and family sports events to the North Shore of Greers Ferry Lake, returning with the wildly popular WakeSurfing, FlyBoarding, Paddle Boarding and Kayaking, plus, family-fun Water Slides where you can "ride the wave". Want to challenge a friend? Check out the inflatable obstacle course, new for this year and guaranteed to be a ton of fun.
This June 16th and 17th, step into the summer sun and out into the clear fresh water and take your turn at "Surfing" the big waves or "Flying" above them in a water-powered jet pack, known as FlyBoarding. If you've ever wanted to try out Stand-Up Paddleboarding, lessons will be offered on both Friday and Saturday.
"Surf the Bay" will be held at the Fairfield Bay Marina. Free and open to the public, this water and music festival welcomes visitors of all ages to grab a board, jump a wave or "fly". Join the crowds in watching the professionals showcase their craft, or sign up and participate in three of the most popular and unique adventure sports in the country: WakeSurfing, FlyBoarding and Stand Up Paddle boarding. If the waves get too extreme, take a free shuttle out to Sugar Loaf Mountain Island and hike your way up to breathtaking panoramic views.
WHAT TO DO AT SURF THE BAY?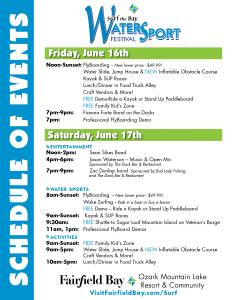 • Need Adventure? Give WakeSurfing a Go!
Join Red River Boating as they bring WakeSurfing to the clear water of Greers Ferry Lake. It's the only way to catch big waves in a fresh water lake. Fun big waves, no rope, and no hard falls! This fast growing sport is getting everyone from 8 to 80 in the water with its three to four feet swells. Watch the pros or join in yourself.
• Ride Across the Water in Style
Red River Boating Center will also be on hand to show off a few of the fastest, most exciting watercraft on the lake. These boats will be set up to let participants experience the thrill of WakeSurfing and WakeBoarding, as well as skiing and kids' tubing.
New this year at Surf the Bay is the only Craigcat Craigcat on Greers Ferry Lake. It's compact, easy to maneuver and fast – perfect for those who want fish, cruise the lake, or just relax in a way that's sure to be like none other. Rentals are available, along with pontoons, kayaks, jet skis, and more. Find the perfect water toy to enjoy the lake.
• Try the Popular Paddle Boarding
If the waves get too extreme, make a real splash and try the popular sport of stand up paddle boarding (SUP). Frank Wimberly, of Sulphur Creek Outfitters will be on hand to help get you started. Stand up paddle boards offer a great way to take advantage of the water and get a fun workout at the same time. Guests can jump in and enjoy many of our friendly competitions such as Kayak racing, going on throughout the day. Or grab a Kayak for more classic paddling fun.
• You Can Even FLY!
Ever wanted to try FlyBoarding? Now you can! Come out and watch as iFlyH2O demonstrates the newest and most exciting extreme water activity. "Surf the Bay" was the first place ever to showcase FlyBoarding over freshwater. Don't miss this! "Come out, and strap yourself to a jetpack, and "fly" above the water like an action hero from a movie," says Rich Mcgahan from iFlyH2O. "It's truly like nothing you've ever experienced – and one you won't ever forget. It's probably the most fun you can have on the water! And it is easier than you may think. Most people pick it up rather quickly. Our certified instructors will be at "Surf the Bay" to teach those interested."
The Weekend Events: Friday June 16th and Saturday 17th
"Surf the Bay" is free and open to the public. All events and activities will be held at the beautiful Fairfield Bay Marina on the North Shore of Greers Ferry Lake.
"This year's Surf the Bay will be the greatest one yet," says Fairfield Bay Marina Manager John Conry. "This year, crowds will have the opportunity to enjoy all our new equipment, including our Craigcat, jet skis, Hobie Eclipses, and pontoon boats, as well as try their hand at stand-up paddleboarding, flyboarding and wakesurfing."
Beach Party and Live Music Galore
"Surf the Bay" will kick off with a big beach party Friday night June 16th, featuring live music from Fiowna Forte (www.fiawnaforte.com) from 7pm, water games, dinner, refreshments and more. Activities start early Saturday morning, June 17th. Enjoy food vendors, hiking at nearby Sugar Loaf Mountain Island, and plenty of outdoor activities on land and fun in the water. Music can be heard dockside all day, beginning at noon with the Sean Sikes Band playing until 2, followed by Jason Waterson Music and Open Mic from 4p-6p, sponsored by The Dock Restaurant and Bar, and the Zac Dunlap Band playing from 7p-9p, sponsored by Bud Lady Fishing and The Dock Restaurant and Bar.
"This event is growing with each year," says Rocky Nickles, General Manager of the Fairfield Bay Community Club. "Fairfield Bay is becoming the best place to come and enjoy Greers Ferry Lake. Families come from across the state to see what we're all about here, and we're super excited to have events like these to showcase the lake and all we have to offer. I can't think of a better way to spend the weekend.
Stay and Play in The Bay
Coming for the festival? Make the most of your time in beautiful Fairfield Bay, and stay for the weekend. Your home base for information, vacation planning and relaxation.
• Reserve a boat, tee time, tennis court or dinner
• Catch a boat shuttle to Arkansas' Only Mountain Island trail
• Find a hiking or biking trail from one of Fairfield Bay's 8 trails
• Lodging for a week or a weekend
Your personal concierge is able to do it all. For more information on "Surf the Bay" and to discover all the "Good Life" has to offer, go to www.VisitFairfieldBay.com/Surf, or call 501-884-4202.