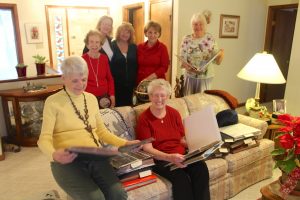 Bonnie Hookman shared her travel scrapbooks with members of the North Central Arkansas Artist League. She is shown seated on the sofa with some of her 50+ books, with (from left) Carolyn Goettsch, Edgemont; Lea Berry, Gay Ryan, Alecs Long, Kathleen Hadley, Fairfield Bay; and Joyce Hartmann, Choctaw. Her books feature photos as well as original watercolors done on location and in her studio.
Rain and fog didn't keep Artist League members from their Third Monday program, entitled "Treasure Chest", at the home of Bonnie Hookman Jan. 16th. She shared some of her 50-plus cruise and vacation scrapbooks filled with photos and paintings of exotic places around the world. After each member looked at a scrapbook, they shared their treasures: one thing they learned as well as their favorite painting in the book.
Bonnie's paintings are done on quarter-sheet watercolor paper. She carries everything she needs to produce her sketches in a small canvas bag: a palette loaded with watercolor paint, a lightweight foam drawing board, paper, a few brushes, tissue, tape, and water containers. She takes lots of photos and also carries a small printer with her for reference photos, which helps her either to paint on location or in her room, or do a more detailed painting in her studio after their return.
Artist League members left with a desire both to take a cruise as well as to carry their paints with them on their travels, too.
The North Central Artist League invites new members to join. They meet each Monday morning in Fairfield Bay to paint together, and they hang and sell their paintings in many places in Fairfield Bay, Clinton, and Greers Ferry. Each third Monday they present an educational program, and at least twice a year they feature workshops by nationally known artists. For further information, call any member or Vice President Joyce Hartmann at 501-745-6615. Check their Facebook page and "like" it to receive announcements of activities.