April has come and gone like the spring rains and the blossoming dandelions!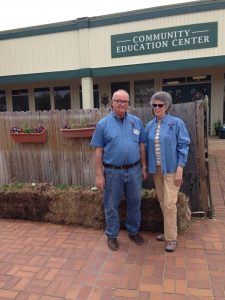 The Master Gardener's second Lunch and Learn brought out the sunshine and Bob Berdine who spoke on Starting from Seeds. Standing with Bob is his wife Sharon, also a Master Gardner, who presented information about Pruning Crepe Myrtles at the March session. This popular monthly event continues next month with a discussion on Deer Resistant Plants by Maud Hubner. The Master Gardener's Lunch and Learn lectures are held the second Thursdays of the month from 12:00noon-1:00pm.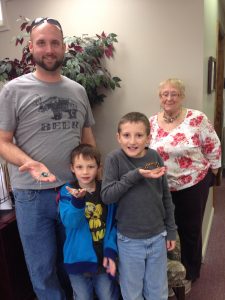 One of our weekly classes that is popular with young and old alike is our Jeweled Spider class lead by arachnid enthusiast Fran Schroeder. This trio of resort visitors learned spider history, folklore, physiology, and geography during their spring break visit to Fairfield Bay.
In keeping with our Arkansas focus, the weekly Wednesday morning Crystal Jewelry class with Melanie Minton is very popular. Arkansas is a top producer of quality crystals and each student in her class created a stunningly beautiful, wearable work of art. (Photo 3)
SAVE THE DATES!
1. Our celebration of the 50th Anniversary of the Founding of Fairfield Bay gives tribute to our earliest settlers – the native Americans who crosses these hills long before there were golf courses. In recognition of these first inhabitants the Education Center's Sterling Scholars presenter will be Dr. Jaime Brandon, who will discuss
2. Indian Rock Cave archeology and artifacts on Wednesday, May 4, 1:00pm-2:00pm
3. The AKC Canine Good Citizen class (basic dog obedience) with Pamela Padgett will start on Saturday, May 21 and continue May 28, from 11:00am-3:00pm at the Fairfield Bay Dog Park
Happy 50th Anniversary Fairfield Bay!
In June I will observe the first anniversary of my term as Director of the Community Education Center. How time flies when you're having fun. I looked back on the previous narratives that I had written and two themes stood out. In my earlier postings I discussed the importance of balance in our lives – ships at sea, knights in armor, our health and wellness. Last month I encouraged you to challenge your mind to learn something new. On my desk I have a picture of a balanced wheel, with four circles intersecting in a ven diagram. The circles are labeled that which you love, that which the world needs, that which you can be paid for, and that which you are good at. At each intersection of circles on the balance wheel there are the words Mission, Vocation, Profession and Passion.
I am lucky in that I have found my mission, vocation, profession and passion in my role here at Fairfield Bay. I really enjoy creating new and exciting learning opportunities for our residents and guests. I love interacting with the instructors who provide expert knowledge and a guiding hand. I have learned more from my students than I could possibly ever teach them. These lessons are not just about a craft or a skill, but about life lessons – how to cope with unexpected illness, the unanticipated loss of a loved one, or the disappointment of a friend. The courage to continue with grace, kindness and compassion. These attributes are the essential olis that keep the wheel in balance.
Anniversaries are good opportunities to do some self-reflection. Maybe we need to stop once a year and reflect on ourselves. Do we need to adjust our circles and try something new? Have we achieved balance?
Special upcoming events:
Indian Rock Cave archeology and artifacts with Dr. Jaime Brandon, Wednesday, May 4, 1:00pm-2:00pm
Deer Resistant Plants with VBC Master Gardener Maud Hubner, Thursday, May 12, 12noon-1:00pm
AKC Canine Good Citizen class (basic dog obedience) with Pamela Padgett, Saturday, May 21 and May 28, 11:00am-3:00pm at the Fairfield Bay Dog Park
Weekly classes:
Individual piano and guitar instruction
Jewelry Making using Arkansas Crystals with Melanie Minton, Wednesdays, 10:00am-12:00noon
Fused Glass with Barbara Cornett, Wednesdays, 2:00pm-4:00pm
Jeweled Spider Art with Fran Schroder, Thursdays, 9:45am-11:45am
Qigong- Benefits of deep breathing and slow body movement with Dan Eidson, Thursdays, 10:00am-11:00am
Dollhouse workshop, Do It Yourself, Thursdays, 1:00pm-3:00pm, free with annual registration
Monthly events:
Sterling Scholars Lecture Series, first Wednesdays, 1:00pm-2:00pm
Master Gardeners Lunch and Learn Presentations, second Thursdays, 12noon-1:00pm
Painting with Oil, Tuesdays in May, 10:00am-12:00noon
The Fairfield Bay Community Education Center offers a wide variety of educational classes, workshops, and lectures for the benefit of the Fairfield Bay residents, resort guests and locals from the surrounding areas. We feature classes and lectures n music, arts and crafts, archeology, aviation, photography, computer literacy, gardening, cooking and many other subjects. Our class schedules and fees can be found on our Facebook page: FFB Community Education Center. As always RSVP (501-884-4440) to secure your place in the class. Thank you for your support and I hope to see you soon.