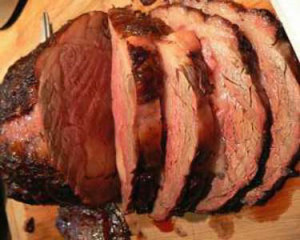 Recipe of the Month
Prime Rib
I'm not sure there's anything more special and delicious at Christmastime than a beautiful, perfectly cooked piece of prime rib. Served hot and delisous and good the next day, too, sliced cold right out of the fridge.  Prime rib sounds impressive, and it is. But impressive doesn't need to mean complicated. The best friend you can have when roasting a nice cut of beef is a reliable meat thermometer.
Ribeye Loin (about 14 lbs)
Vegetable oil
Seasoning
Plan to prepare at least one day ahead.
Trim the fat cap off of the ribeye loin, if not already trimmed. This is the fat that is on top of the meat. With the thinner end facing towards you. The excess fat should lift up on the opposite end away from you sliding your fingers under.  Pull fat up and towards you till it reaches the narrow end. Then holding this piece straight up cut off straight across parallel with meat.
Rub the entire loin with the oil making sure to not forget the ends. The oil provides a sticky surface for the seasoning to adhere to.
After rubbed down with the oil coat entire loin with seasoning of choice.  A nice blended steak seasoning will work fine.  Cover meat with plastic wrap and let marinate over night up to 2 days.
Once marinated and ready  to cook preheat oven to 300.  Cook ribeye loin on 300 for approximately 2 hours for a rare to medium rare doneness.  If well done is desired, simply cook a little longer.