Smedley Resurfaces
At the end of cheapskate Ernest Smedley's tale of misfortune related here the past three weeks, many readers were concerned that Smedley had been left shipwrecked on the shoals of life: his wife Mildred had left him, invoking their pre-nuptial agreement, which left Ernest without a nickel; their house with no insurance coverage was condemned after being totally trashed by the "Romanovs," the home exchange couple from Hell; and now Smedley was reduced to collecting aluminum cans tossed on roadsides and out of dumpsters.
But these compassionate readers need not fret as they really don't know what a resourceful geezer like Smedley is capable of in extracting himself from what would put an ordinary person down. Losing Mildred Smedley, his current ex-wife who had all the money and who fled to Keokuk following the Home Exchange fiasco, was just another challenge that Smedley had faced before. You see, Smedley had harvested Mildred via an online dating/match service five years prior, after his fourth wife also had exited for many of the same reasons that caused Mildred to head for the hills.
First thing, Smedley headed for the FFB library, which provides free internet connection, to re-start the wife trolling process using via his favorite dating/match website, " PlentyofFish."
Smedley used the same descriptive template as before: "I…. am a church-goer and a teetotaler;.. am athletic, love to travel, enjoy fishing, golf, bridge, dominos, and Canasta; ….am a great dancer;…am in excellent health, has all my original teeth, non-smoker; ..am a retired school superintendent, love children, am well-off financially, had a great relationship with my mother, lost my first wife of forty years after her heroic battle with cancer with me being at her side the whole way!"
Smedley was The Catch of a Lifetime for some lucky lady! He no doubt was a Man for the Age(d)s!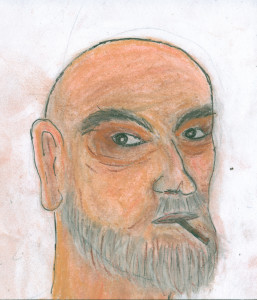 Since a picture is worth a thousand words (fabrications, in Smedley's case), this is where Smedley excelled in presenting a photo of himself as a very attractive prospect in case all the character traits listed need an additional push. The photo he used to snag Mildred set a world record for airbrushing, but now he needed something more appropriate to his current geezer age. The resourceful Smedley pulled up a photo of his nephew ( a three-time loser), "Knott" Smedley, off a recent Christmas card sent from Angola and posted this on his online profile. (See accompanying photo.)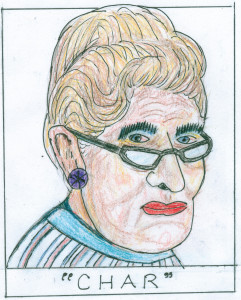 After a few days the email account at the FFB Library was soon flooded with messages for "Knott" Smedley to please respond so that further steps could be actuated to move the inquiry into face-to-face meetings and who knows what could follow thereafter. These inquirers, for reasons that defy explanation why women go for "bad" characters looking like "Knott," were unwittingly placing themselves right in Smedleys's crosshairs as he is a master of internet schmoozing.
After combing through hundreds of emails, Smedley zeroed in on a wealthy, childless widow living in an upscale gated Las Vegas community going by the name of Char Leslie Murgatroyd. Not necessarily a beauty (see picture), but she had other compelling assets $$$$$ that Smedley could not resist and so off to Vegas he went.
NEXT WEEK: Smedley Meets his Match!