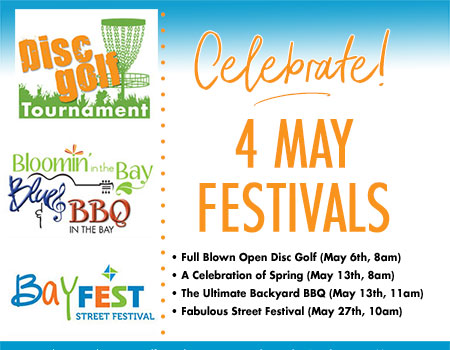 There's some wonderful events happening this coming spring. Find out more about all Fairfield Bay Festivals and other events at VisitFairfieldBay.com/events
May 5-7th – Disc Golf
Fairfield Bay is pleased to announce the third annual Full Blown Open Disc Golf Weekend May 5-7, 2017. Presented by Fairfield Bay Recreation Department and Dynamic Discs, this disc golf weekend appeals to a full range of skills and ages.
A sanctioned Professional Disc Golf Association (PDGA) event, the weekend tournament is designed for recreational players as well as professionals, kids 6 and under to senior legends aged 80 and above. The weekend starts with a game of glow golf on Fairfield Bay's own professional course, then includes play on an 18 hole disc golf course set up for the weekend's activities, and concludes with a game on the beautiful Indian Hills Golf Course.
_________________________________________________________________________
Sat May 13th: 2 festivals in 1
• Bloomin in the Bay, 8am – A Celebration of Spring
• Blue&BBQ in the Bay, 11am – The Ultimate Family BBQ
o BBQ cook-off – enter and you could win $500!
A Spring time festival that packs a day full of celebration – kicking off Mother's Day weekend in glorious color, sounds and tastes. Fairfield Bay has combined two family friendly outdoor events into one big springtime celebration, with scheduled activities to appeal to all ages. Bloomin' in the Bay (from 8 am– 1 pm) and Blues &BBQ (from 11 am – 4 pm) will be held on Saturday, May 13. Both events take place in beautiful Ed Leamon Park, providing a seamless flow from one event into the next.
Bloomin' in the Bay – A Celebration of Spring
Bloomin' in the Bay is a free and open to the public family-friendly event. It is a celebration of spring featuring the very popular 14th annual Van Buren County Master Gardeners Plant Sale.
Blues & BBQ–The Ultimate Backyard BBQ
Beginning at 11 am, meander your way through the park to the second festival of the day – Blues and BBQ – the Ultimate Backyard BBQ. Event goers can sample the culinary creations of both local and out-of-town BBQ chefs, and the best BBQ will be chosen by a vote of the people. This packed afternoon of fun will feature the Sean Sikes Band. There's a bouncy house for the kids, arts & craft vendors, and the best barbeque for miles around. Follow the smoke and have fun at the biggest backyard barbeque in the Bay!
ENTER TO WIN – BBQ COOK OFF – Grand Champion can win $500. BBQ Cook-off Divisions include: Pork Ribs, Pork Butt & Chicken. Entry Fee is just $15 per team. Deadline to enter is May 8th, 2017. Call Lake Area Weekly to enter: 501-884-6012.
So much more…
Crusin' the Bay Car Show
For those with a love for Classic Cars, the Cruzin' the Bay Car Show and Shine is the event for you! Come feast your eyes on some real beauties. Hosted by the Fairfield Bay Chamber of Commerce, there will be a 50/50 Raffle, prizes, and other giveaways. The Car show will be held in the Village Mall Parking lot, near the Clock Tower, and goes from 9:00am – 2:00pm.
Additional Bay Activities
There won't be a shortage of things to do! As you're walking around the park and trails, be on the look out for some hand-painted rocks to take home as a souvenir! Providing inspiration and plenty of smiles. Also, the Fairfield Bay Library will be having their annual book sale. A short walk from the park, the library is sure to have a few selections that you'll love to curl up and enjoy.
_________________________________________________________________________
Sat. May 27th – BayFest
Fairfield Bay's Street Festival.
Come join the fun as Fairfield Bay celebrates the Third Annual BayFest Street Festival. With something for everyone, this festival is a pet and family friendly event that packs in a ton of activities all day long. Bring a hearty appetite, as portion of the proceeds from food sales will benefit the Fairfield Bay Animal Shelter!
10am – A Full day of family fun, games, parades, music and street festival fare
BayFest kicks off the day at the Fairfield Bay Village Mall where you can enjoy a myriad of street vendors – from arts and crafts, to plants and clothing. Hand crafted items made by local artisans are sure to be the perfect souvenir of your day. And who can resist classic street fare food? Yum!
Everyone Loves a Parade! Grab Fido and let him strut his stuff in the Pet Parade. Watch your fur friends prance along the red carpet, dressed to the nines and soaking up all the extra attention. And who knows – he may bring home a prize for Best in Show!
Music, Music, Music! No festival is complete without music! Kick off the day with the gospel sounds of Faith Over Fire. Later in the day, the sounds of Remnants can be heard rounding out the festivities. Bring a lawn chair, kick back and relax and enjoy the tunes – or if the mood strikes you, get up and dance a while – it's a festival, after all!