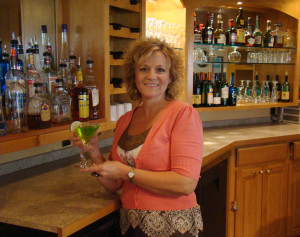 The Indian Hills Country Club would like to invite you, your family, and friends to visit the Club, where customer service is our number one priority.
With four dining areas, we can accommodate any needs you may have. The Fireside room is ideal for parties and meetings.  The Sunset room  offers a fine dining experience, while the 19th Hole is a casual meeting place after a round of golf or just dropping in for your favorite beverage to enjoy a lunch or dinner special. The Fairfield room accommodates larger affairs such as banquets and receptions.
Whatever your needs, we are here to ensure your experience at Indian Hills Country Club is a memorable one.
April is a month known for it's rain showers, so our featured drink of the month is appropriately named "April Rain." I am holding a sample of the drink and have provided the recipe below. Stop in and let our staff prepare this refreshing drink for you!
"April Rain" Recipe
2 oz. Citrus Vodka
½ oz. melon liquor
splash of Rose's Lime juice
Garnish with a lime wedge
Only $3.50 during the entire month of April.
Look forward to seeing you at the Club,
Marla Magness
Manager