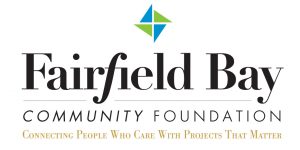 The Cornerstone Society is the inaugural funding platform for the Foundation. Efforts to expand this unique and valued group of supporters will continue through 8/31/17. These founding supporters will play a crucial role in evaluating and awarding grants as our foundation matures.
The first year goal remains $50K in Cornerstone Society pledges. The Foundation has received 21 pledges of $1,200 or more in our first four months of outreach, rewarding us with more than 50% of our first year's target. These generous Bay residents have pledged $50 a month for 24 months to insure your Foundation's ability to participate in projects designed to enhance the lifestyle we all enjoy.
While this initial year remains focused on fundraising, several donors have provided the entire $1,200 in a single payment, enabling us to consider two small grant requests for projects in 2017. More to follow as these opportunities develop.
Thank you to each of our Cornerstone Society members who have already demonstrated their commitment and love for the incredible lifestyle we enjoy in Fairfield Bay. Please join your neighbors by making your pledge soon. Learn more on our website or follow us on FaceBook for ongoing updates.
www.fairfieldbay.community
Mike Doyle, Executive Director
[email protected]
or 479-871-7281