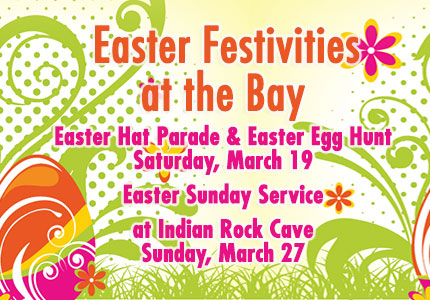 Put on your Easter Bonnet –
Easter Parade, Egg Hunt and a very special Easter Sunday Service at "The Cave"
Fairfield Bay has always brought Easter to light for family and friends. Hundreds come from around the area to celebrate this beautiful and holy tradition.
Join Us:
Saturday, March 19th: Easter Celebration at Woodland Mead Park, 2pm
2pm: Fire Truck Rides, activity booths and free mini-golf for kids. The Fairfield Bay Methodist and Baptist Churches as well as Maranatha Assembly of God Church will have activity booths for kids, with more groups invited.
3pm: The Easter Hat Parade with prizes for kids and adults.
4pm: Easter Egg Hunt. The Hunt itself will begin promptly at 4:00 p.m. and is free for kids twelve and under. Thousands of Easter Eggs will be hidden, containing candy and/or prizes. We usually have a really good turnout for the event so come early, find your parking place and enjoy all the festivities the Celebration has to offer. You won't want to miss it! This hunt is sponsored by the Fairfield Bay Recreation and the Fairfield Bay Chamber of Commerce.
Sunday March 27th – Easter Sunday Services, 7:30am
Bringing back Fairfield Bay's Easter service to celebrate our 50 years – an historic past and a bright, shining future.
The interdenominational service will once again be held at the historic and breath-taking Indian Rock House Cave. The service is planned to start at 7:00 a.m. and last approximately 1 hour. Golf carts will be provided to transport people to The Cave, and seating will be provided. After the service, just up the hill, The Little Red Restaurant will be providing an Easter Sunday Buffet.
Breakfast 8 a.m. to 10:00 a.m. Brunch 10:00 a.m. to 2:00 p.m.
*Reservations are recommended*
Pictures from Past Easter Sunrise Service at the Indian Rock House