Saturday, September 3rd
Fairfield Bay to Bring Back the Hometown Street Festival with 'BayFest'.
Plus, New – Southern Stone Skipping Championship with World Record Holder "skipper" to Compete.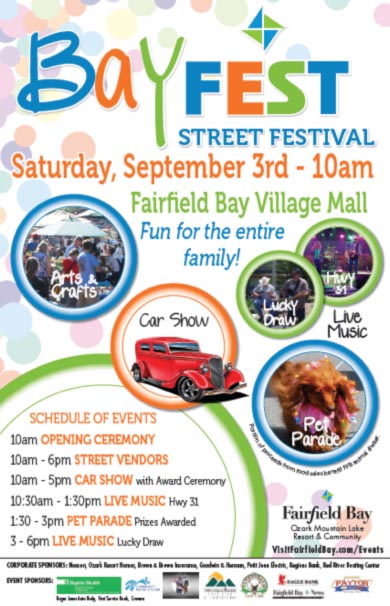 Come join the fun as Fairfield Bay celebrates the Second Annual BayFest Street Festival. With something for everyone, this festival is a pet and family friendly event that packs in a ton of activities all day long. A portion of the proceeds from food sales will benefit the Fairfield Bay Animal Shelter, so bring a hearty appetite!
"It's always a great time when the community gets excited about these festivals," says Dan Feuer, festival chairman. "This year, we're bringing back the feel of a real hometown street festival, with food and crafts, parades and pet activities, a classic car show and fun that the whole family can enjoy all day long. It's like being part of the neighborhood."
9am – Start the morning with a lake tradition – skipping stones
Fairfield Bay will begin the day by hosting the inaugural Great Southern Stone Skipping Championships at the Fairfield Bay Marina. And there's a big surprise in store for those attending: Kurt "Mountain Man" Steiner – the current world record stone skipper with hitting 88 skips will be competing! "It simply defies your eyeballs to see his stone keep going and going," said Alex Thayer, event co-founder. Free to spectators, those wishing to compete pay a $10 entry fee for a chance to win cash prizes. Proceeds from the charitable event will go to the Arkansas Food Bank. Grab your favorite skipping stone and join in the fun.
10am – A Full day of family fun, games, parades, car show and street festival fare
Just a stones throw away, the street festival kicks off at the Fairfield Bay Village Mall where you can enjoy a myriad of street vendors – from arts and crafts, to plants and clothing. Pick up one-of-a-kind items, specially crafted by local artisans that will without a doubt be a conversation starter with your friends. No street festival would be complete without sampling the food trucks for some good old fashioned carnival street fare.
Rev up the excitement – Car Show & Live Music. Amazing classic beauties will be on display at the popular Car Show. Talk with the owners about the history of the cars – they're sure to tell stories with a smile and a twinkle in their eye. Be sure to cast your vote for your favorite – award ceremonies will be held at 5:00 PM.
And what is a street festival without live music? Hwy 31 will kick off their set at 10:30am under the big tent, and local favorite Lucky Draw will play from 3:00 – 6:00pm. Bring a lawn chair, kick back and relax and enjoy the tunes – or if the mood strikes you, get up and dance a while – it's a festival, after all!
Everyone Love a Pet Parade – Bring Fido and join in!
And pets are welcomed too! Starting at 1:30 PM, the Pet Parade begins. Dress up your pet and enter them in the parade, and watch Fido and Fluffy strut their stuff along the red carpet – tails wagging, barking and mugging for you to cast your vote for them to be the Best in Show. Overall winner will win a portrait painted by our own Doris Sexton!
More Information?
• BayFest Street Festival, contact Dan Feuer at (501)884-6012 or email at [email protected].
• Great Southern Stone Skipping Championship, contact John Baker at (501)688-8850 or email at [email protected].
Special thanks to all our sponsors. We could not have this event without them. Corporate Sponsors: Noacon, Ozark Resort Homes, Goodwin & Herman Real Estate, Brown & Brown Insurance, Regions Bank, Red River Boating Center, and Petit Jean Electric.
Event Sponsors: Baptist Health Family clinic, Community Water Systems, Bud Lady Fishing, Mountain Ranch Golf Club, Tannenbaum Golf Club, Eagle Bank, Fairfield Bay News, Payton Chevrolet, Rogers Jones Auto Body, First Service Bank and Cravens.
Arkansas' Family Recreation Destination – Stay & Play for the Weekend
Why not stay for the weekend and get the most out of this family event?
Come early to race and then spend the weekend exploring and playing in Fairfield Bay.
• Hike Arkansas' only mountain island trail,
• Swim, fish or cruise the stunning Greers Ferry Lake,
• Play championship golf and then try mini- and disc golf, too,
• Take a self-guided art galleries tour
For more information on vacation packages available, call a personal concierge to create a unique trip just for you at 501-884-4202.