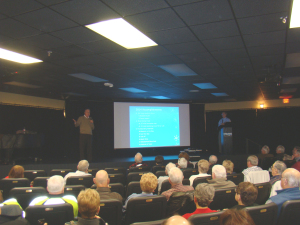 Club President, Dwayne Miller and General Manager/Mayor, Paul Wellenberger discuss the many accomplishments and goals during the Town Hall meeting on Tuesday, December 9 in the Performing Arts Theater in the Conference Center.
2014 Accomplishments
New Medical Clinics- 2014 saw two new medical clinics come to Fairfield Bay. Baptist Health Clinic with Dr. John Herring opened in June and Ozark Health Clinic with Dr. Keith Coward opened in December.
New hiking trails- A wonderful .25 mile connector trail linking the Woodland Mead Recreation area to the Ed Leamon Botanical Gardens opened in the summer and the Rambling Cove Fit for Life trail opened in the Fall. The .25 mile Rambling Cove trail is specifically designed with no more than 5% slope, making it easily accessible to all, and has a serpentine path through gorgeous woods at the marina entrance.
Outstanding Festivals- In addition to Bloomin in the Bay on Mother's Day weekend, Surf the Bay on Father's Day weekend, July 4th Fireworks extravaganza, Boati Gras in August, and Storyfest in October, many new events were added including the Memorial Day Classic Car show, Oktoberfest, and the Festival of Trees at Christmas.
Conference Center- In its first full year of operation over 100 events and over 10,000 attendees enjoyed the Center. Wonderful art is always displayed as it is the North Central Arkansas Art Gallery. Entertainment ranged from Concert Pianist to Gomer Pyle. The Center has become the place for lodging, weddings, meetings, conferences, banquets, and celebrations.
Major Awards- In 2014 Fairfield Bay was recognized for its 'Quality of Life' with a City of Distinction award recognizing the impact of the Conference Center. The Arkansas Recycling Coalition recognized our Recycle Education Center as the best in Arkansas in 2014. Our Recycle Center also received a grant to open and operate a paint recycle center that has cut in half paint going to the landfill.
Infrastructure Improvements- The Lynn Creek Crossing project, which raised the road 8 feet to prevent future flooding, was officially opened with the ribbon cut by United State Senator Mark Pryor in May. New offices for our Chamber of Commerce at the Wyndham Welcome Center and the City, Community Club, and newspaper at Indian Hills were constructed and occupied in the summer- making all of our operations more efficient and effective. Thanks to a generous donation, a new dog run was built at our Animal Shelter. Significant improvements were made to our ability to handle winter snow and ice events. New computer consoles were purchased and installed in our 911 call center and our emergency services transitioned from analog to digital communication systems. A generator has been added to our Lynn Creek wastewater treatment plant that will ensure our ability to run even during an extended power outage. This minimizes the possibility that we would ever pollute the lake. Castle Ridge Road to Shady Acres was paved all the way through, creating a fourth paved entrance off of highway 16 into Fairfield Bay. Wayfinder signs have been installed on Highway's 16 and 330 to direct traffic into the Bay and make it easier for tourists to find our attractions.
More fun thngs to do- In May we added Disk Golf to our plethora of activities available at Woodland Mead Park and at the Marina we added kayaks, stand up paddle boards, and paddle boats- all were hits.
Strategic teams and initiatives established- The idea incubator and Imagine Fairfield Bay 2035 teams are bringing both short and long term projects to the forefront that are key to our continued success.
Honoring our Veterans- On Memorial Day a very special ceremony is held at the site of the flags by the Senior Center honoring our veterans. On July 4th Fairfield Bay was designated a Purple Heart Community and we honored those in our area who have received a Purple Heart with a special ceremony.
Public Safety- Fairfield Bay continued to be one of the safest cities to live. Ten volunteer officers have completed training and will be available to assist our police with the increasing number of events and activities we are enjoying. Our fire department received numerous grants and is making significant strides with training and equipment as they pursue an improved ISO rating. Our ambulance team has just procured new gurneys which will improve the lifting safety for the ambulance crew and improve comfort for larger patients. Trauma grants will defray some of this cost.
Community Education Center- Enrollment and class offerings continued to grow in 2014. 'Cheeseburgers in Paradise' fundraiser was successful and much fun. We'll do it again in 2015!
We welcomed several new businesses and restaurants in 2014.
2015 Goals
Build a new eating facility at the Bay View pool and add seating to take advantage of the million dollar view
Add a new dock at the marina- we have a significant number on the waiting list we need to accommodate. Also plan to add Wave Runners.
Be a great host to many conferences. Provide memorable experiences to those who attend
Improve lighting and road visibility at our main entrance
Improve shading at the Mountain Ranch pool
Pursue grants for improved broadband service, exercise equipment to add on the Rambling Cove trail
Resurface upper tennis courts
Pursue a bond package to address road needs
Raise funds to build a Wounded Warriors fishing/eating motorized barge at the marina
Together we are accomplishing so much. The 'power of us' is evident!