Recreation Tip of the Month, save $20. Here's how.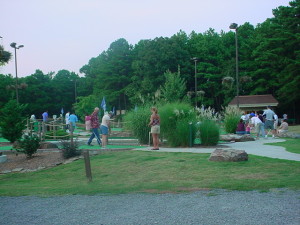 Web Exclusive… You simply can't beat the month of April for being outdoors in Arkansas, and Woodland Mead Park is a great recreational spot in Fairfield Bay to take advantage of while the weather is so beautiful!  How about a quick game of shuffleboard with some friends or a game of "h-o-r-s-e" with your grandchild (and their friends!).  If you have a large group gathering, you can easily pull together a game of sand volleyball that is enjoyable for every generation.
Special Mini-Golf Offer – HURRY… The main event in the park, of course, is Woodlands Miniature Golf.  To encourage you to participate in this wonderful amenity in the Bay, we are offering season passes this month for $20.00 off!  Did you know that a family season pass allows eight people of your choice to play unlimited ALL YEAR, and gives you a 50% discount for your guests?!  Couples and Individual Passes are also available, and include guest discounts with them.  Fairfield Bay Property Owners receive an additional $5.00 discount off all passes.  Hope to see you at the park this month and throughout the year!
Season Passes
Full Price Family – $100.00                  April Discount – $80.00                  April Property Owner – $75.00
Full Price Couple –  $80.00                  April Discount – $60.00                  April Property Owner – $55.00
Full Price Single –   $60.00                  April Discount – $40.00                  April Property Owner – $35.00