Woodland Mead Park Opening, Sat April 5th.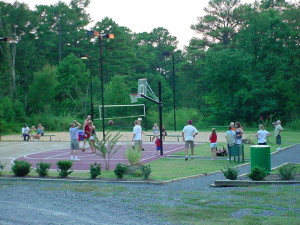 As we see the first signs of Spring, the Recreation Department is excited to announce that the opening of Woodland Mead Park. Join us for one of our first events in the park: a dog show at the amphitheater – set for Saturday, April 5th.  Check the Fairfield Bay News for the details on this event.
Enjoyed the sunshine and all the fun that the park has to offer! Along with a challenging mini golf course (two of them intact!)  Woodland Mead Park offers horseshoes, shuffleboard, a walking trail, kids play area, a basketball court, a sand volleyball court or just a quiet bench to sit and enjoy the beauty of Spring.  You will find Bob Robertson, a familiar face in the park cabana, along with Mona Johnson, recreation's newest face to assist you in any way with the park's facilities.  Come out and join the fun!
Join the kids at the FFB Annual Easter Egg Hunt sponsored by the FFB Recreation Dept. and FFB Chamber of Commerce, Saturday, April 12 from 2-4 p.m. at Woodland Mead Park.  The Easter Bunny will stop by for pictures with the kids, so be sure & bring your cameras.  The afternoon will include a ride in the FFB Fire Truck, 4000 Easter eggs for hunting, playing Mini Golf, Hot Dogs,  and an  Easter Bonnet contest for all ages. Prizes will be presented for the Prettiest, Most Creative and Funniest Easter Bonnet in the Park.  The Chamber of Commerce is accepting candy, or monetary donations, for this fun event.  Please call the Recreation Dept. for additional information (501) 884-6008.