Winter's Joys: Coming Out of Hibernation??? Yep!  Join US.
The crisp mornings bring both the autumn colors and the Fairfield Bay Outdoor Adventure Group out of their summer hibernation for area residents to enjoy. The Outdoor Adventure group started as a Hiking Group two years ago to provide an alternative activity in Fairfield Bay, which would be appealing to the baby boomers who have started to join the ranks of retiree's.
Attracting this large generation of retiree's will be the key to revitalizing Fairfield Bay The Baby Boomers have a different expectation of retirement than the "Greatest Generation" and the "Silent Generation ". Most will not be satisfied with sitting at a card table or riding a golf cart on the golf course. The Baby Boomer generation started the Health Club business boom and the huge growth in designated bike trails in this country. As such, retirement communities must diversify their activities to include more physically challenging activities to attract this generation of retirees to their community.
Recognizing this, Tom Welch invited community retirees to join him and his wife Sherry on their fall and winter hikes into the State and Federal forests north and west of Fairfield Bay. Tom proposed that the group stop for brunch at small town cafe prior to the hike to "fuel up" and socialize. Often after the hike they will meet for drinks and snacks over a bomb fire and watch the sun set over the Greers Ferry Lake at Fred and Eleanor Hilsenrath's lakeside home. As such Tom marketed the group as "an eating and drinking group with a hiking problem".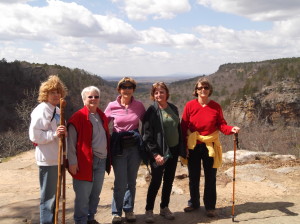 The group hikes became very popular and members asked for other activities throughout the year. As a result, canoe trips on the Buffalo River were added last year and this year the first annual Bar BQ and Bourbon Bike Ride was held in Little Rock. In recognition of the new diverse activities the Group was recently, and appropriately renamed the Fairfield Bay Out Door Adventure Group. The intensity of the activities are at a level which allow several of the members over 80 years old to also enjoy the day. In order to help group members plan of the activities Tom has recently decided that the Group activities will be held on the second Saturday of the month from October through May.
Our next hikes are December 14th and January 11th . The December 14th hike will be along a portion of the Sylamore trail north of Mountain View . We will leave from the Indian Hills Country club at 9:30 AM , We will stop and have brunch at Cody's resturant in the town of Fifty Six.
Folks, contact Tom Welch at [email protected] or 501 884-3135 if you wish to participate in the hike or be placed on the e-mail distribution list for future Adventure Group activities!!