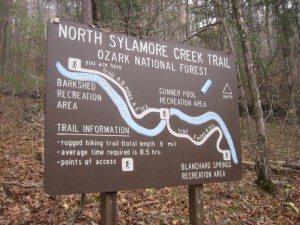 The Fairfield Bay Hiking Group is a fun, adventurous group of outdoor enthusiasts. There's always a planned monthly activity, such as canoeing (often at the Buffalo River), biking, lake activities and more. But often, the group comes together for quick "flash" adventures when beauty calls, such as last minute adventure to the waterfalls in Newton County  following a heavy rainfall. Or to go explore an Arkansas City on bikes during the sunny spring day.
Next Adventure: January 11, 9:30am.
The Fairfield Bay Outdoor Adventure Group is planning one of the most scenic portions of the Sylamore Trail  near the Blanchard Springs cave on January  11, 2014. The Group will leave the Indian Hills Country Club parking lot at 9:30 a.m. They will stop for brunch at Cody's Restaurant in the town of Fifty Six north of Mountain View. Contact Tom Welch at [email protected] if you're interested in participating in this hike or any other activities.