Leaves Beginning to Fall, Mean it's Time to Winterize Your Boat.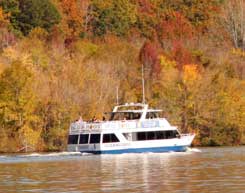 Last month's enews was a reminder that Winter is approaching, and whether you winterize your boat yourself, or have it done by one of the local marinas, it's time to act and make sure your boat stays "healthy" for those tempting Spring and Summer days.
Our popular Marina's schedule is already beginning to full up, so please be sure to make an appointment well before the temperature drops.
Consider: For the safety of your boat, check your dock lines. When were they last replaced? The lines are subjected to all of the elements that mother nature can dish out. Over time, the lines dry out, and become stiff and weak. Winter storms tend to be much stronger and persistent than summer storms. Worn dock lines could fail during winter storms and a dried out line could snap, resulting in extensive damage to your boat by allowing it to beat against the dock It's best to replace worn lines when they show signs of wear. Lines made of nylon are the best choice for strength, stretch value and shock absorption. Nylon lines are either braided or twisted and the style of choice is up to the individual. Always use the proper size line for your boat. Boats up 20 feet in length should use 3/8" diameter line, boats from 20 feet to 40 feet should use ½" diameter line and boats larger than 40 feet should use 5/8" diameter line. Remember to take the time now to give special attention to your boat.
Jim Stafford
Marina Manager