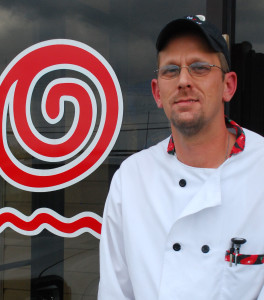 Born and raised in Las Vegas, Nevada, Jason Owen moved with his family to Noel, Missouri in 1988.  It was there the Jason began his restaurant career at the Bella Vista Country Club in Bella Vista, Arkansas, at age 16.  He started out washing dishes, but within a month was promoted to line cook where he learned how to prepare a wide variety of dishes, with an emphasis on presentation. He worked there after school hours and during the summer months until he graduated from McDonald County High School in Anderson, Mo.  After high school, Owen obtained an in-depth education in the restaurant business while a cook at various restaurants in Joplin, Mo. He made good use of that experience when he and his family opened a restaurant in Lanagan, Mo., in 2001.  As co-owner and chef, the restaurant was so successful that he moved it to the larger town of Noel in 2003. It closed after the death of his mother in 2006.
Owen moved on in his career to a restaurant in the Bordertown Casino in Wyandotte, Okla., and in late 2011 moved to Fairfield Bay where he obtained his current position at the Little Red Restaurant.  Owen says he's continued with his culinary career because "I enjoy it, I always have, since I got into it. It makes me happy to make customers happy. I like to take a variety of ingredients and prepare a very creative dish."  He is an avid collector cookbooks, always seeking out the best contemporary dishes and the latest presentation styles and techniques.  "Presentation is important," Owen says. "But everything has to be top-notch, starting with the ingredients we use."  Besides absorbing the creativity of other chefs in his cookbook collection, Owen says he's been inspired by chefs Guy Fieri, who attended the University of Nevada, Las Vegas, in Owen's hometown, along with Wolfgang Puck and Gordon Ramsey. He says he admires Ramsey's "attention to detail and uncompromising attitude."
Owen says The Little Red Restaurant owners Deb Ivanor and Jeannie Stone are supportive and encouraging.  "They're great to work for," he says. "They make everything run smoothly and professionally.  And I enjoy working with our great team in the kitchen and the friendly wait staff. They're a big reason the Little Red Restaurant has been so successful."  The Little Red Restaurant is a full service, family restaurant in their third season located in the heart of Fairfield Bay.  Owners Deb Ivanor & Jeannie Stone shared their vision, "We have undertaken this culinary adventure to provide Fairfield Bay and the entire Greers Ferry Lake area with a casual, comfortable dining establishment.   We take pride in providing a diverse and unique menu along with many down-home comfort food favorites. Jason Owen is just what this area has needed!  He is talented and excited about his profession and he brings it with him everyday he is here."  Jason and the entire staff at The Little Red invites you to join them for a great Breakfast, Lunch or Dinner!