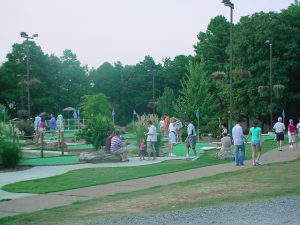 It's Spring. Time to start venturing outside. We will be opening Woodland Mead Park Mini-Golf and Disc Golf on March 13th (weather permitting). Our pool manager, Tom Ross, has been busy getting busy getting everything ready for the opening. Our Classic course has been refurbished and should be ready for play by opening day. We are excited to get back in "the swing" of things.
Like to help? Candy for Easter eggs are still needed for the Annual Easter Egg Hunt. Please drop off your candy at the Chamber of Commerce, the Recreation Office or at Fairfield Lanes. If you have any questions please call Recreation at (501) 884-6008 or the Chamber of Commerce at 884-3324. Your assistance is appreciated and you will help make lots of area youth very happy. Thank you for partnering with us.
The Big News of the Year is that Recreation will be opening a new Souvenir Shop at the Bayview Pool. We have been enjoying purchasing items for the shop and getting things ready. The shop will have some of your favorite items including Fairfield Bay T-Shirts and souvenirs as well as other items. We now have some of these items for sale at the Recreation Office. Give us a call at (501) 884-6008 to make sure we are here before driving over. We think that you are going to "like our style".
Looking forward to plenty of fun!
Cassie Lopez
Recreation Manager