New Lake Water Toys!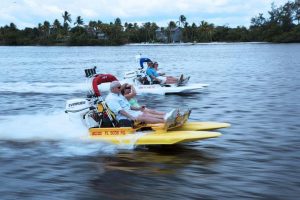 Your FFB Marina is on the move getting ready for spring & summer. We're receiving our new water toys for your lake pleasures in March, details soon!
As soon as weather permits we're prepping the marina for a new face lift with bright new tropical logo colors & trim, during this time some entry & exit points of the marina store will be blocked off, please have patience.
Our dock maintenance continues with 9-winch dock support braces now replaced with 3 more to do. We're also evaluating replacing lighting on the breakwater protection. The safety of your water playground remains our number one focus!
Our winter sales were very successful & we're stocking our new clothing & goods every day. We have a new "Always 25% Off" section in the store to help keep your choices fresh & new.
We've received a replica Tug Boat donated by Mike Doyle & his wife. We're in the process of analyzing the best use potential.
As a side note, PLEASE be careful on the lake. It's now more than 6' below normal levels. Stay in the main channels avoiding shorelines & obstructions that could damage your boat.
See you at the Lake!
Make sure to "LIKE" our Facebook page for constant updates.
John Conry, Marina Manager
501-884-6030