Fairfield Bay Library
Happy March. It's a great month to read a book.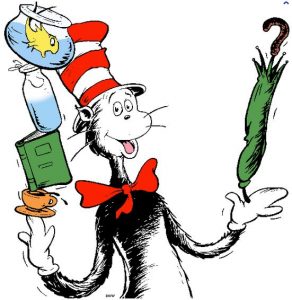 March 2nd is the birthday of someone very special in the Reading world……Dr. Seuss! Children all over the world have grown up with books by Dr. Seuss, and I'm sure that more than one of them has asked the question, is Dr. Seuss a REAL doctor!?! We found the answer at www.seussville.com……… If you want to pronounce the name the way his family did, say Zoice, not Soose. Seuss is a Bavarian name, and was his mother's maiden name: Henrietta Seuss's parents emigrated from Bavaria (part of modern-day Germany) in the nineteenth century. Seuss was also his middle name. Theodor Seuss Geisel — known as "Ted" to family and friends — liked to say that he adopted the name "Dr. Seuss" because he was saving his real name for the Great American Novel he would one day write. But that's probably not true. When talking to the media, Geisel was more interested in telling a good story than he was in telling a true story. The true story is also a good one, as we learn in Judith and Neil Morgan's excellent biography Dr. Seuss & Mr. Geisel (the primary source for what you are now reading). During his senior year at Dartmouth College, Ted Geisel and nine of his friends were caught drinking gin in his room. This was the spring of 1925, and the dean put them all on probation for violating the laws of Prohibition. He also stripped Geisel of his editorship of Jack-O-Lantern — the college's humor magazine — where Ted published his cartoons. To evade punishment, Ted Geisel began publishing cartoons under aliases: L. Pasteur, D.G. Rossetti '25, T. Seuss, and Seuss. These cartoons mark the first time he signed his work "Seuss." As a magazine cartoonist, he began signing his work under the mock-scholarly title of "Dr. Theophrastus Seuss" in 1927. He shortened that to "Dr. Seuss" in 1928. In acquiring his professional pseudonym, he also gained a new pronunciation. Most Americans pronounce the name Soose, and not Zoice. And that's how Ted Geisel became Dr. Seuss. Interesting huh? Check out these and many other fascinating stories about Dr. Seuss at www.seussville.com.
READ ACROSS AMERICA March 2, 2017 "You're never too old, too wacky, too wild, to pick up a book and read with a child." Arkansas contact: Arkansas Education Association Tish Talbot 1500 W. 4th St. Little Rock, AR 72201 501-375-4611 [email protected] NEA's Read Across America Day, NEA's a national reading celebration takes place each year on or near March 2, the birthday of Dr. Seuss. Across the country, thousands of schools, libraries, and community centers participate by bringing together kids, teens, and books, and you can too! http://www.nea.org/ readacross/ ****************** Daylight Savings Time begins on March 12, 2017…remember it's Fall Back, Spring Ahead!!
SAVE THE DATEs:
We are gearing up for an exciting year….plans are being made for events in the upcoming months—
National Library Week April 9—15
Tee It Up For Literacy Golf Tournament Indian Hills Golf Course April 22nd
Fairfield Bay Library Annual Book Sale & More Fairfield Bay Lion's Club May 12 & 13
We have a bunch of new books, movies and audiobooks that have come in since the first of the year—so stop in soon, check out all the new stuff, buy some raffle tickets and say Hello! Until next month, Happy Valentine's Day to everyone!! -Karen Tangen, Editor
Need another reason to stop by and see us?
Stop by the library and take a look at the beautiful wood bowls that were created and turned by local resident, Roger Lafoon. Roger has loaned us several of his amazing creations that will be on display in the library through the month of March.
Join the Readers Group!
The Fairfield Bay Library is fortunate to have an active Readers Group that meets at the Library, on the third Friday of every month, from September through May. You don't have to be a member to attend the meeting, nor do you have to have read the book to be a part of the discussion – everyone is welcome!! The books they will be reading and discussing are pre-chosen and the schedule is listed below, so join us:
MARCH 17 ORPHAN TRAIN by Christina Baker Kline Linda Lynch
APRIL 21 CIRCLING THE SUN by Paula McLain Judy Wheeler
MAY 19 ME BEFORE YOU by Jojo Moyes Barbara Wallster
FOLLOW US ON TWITTER!! We've finally left the stone age and entered into the 21st Century…..we have a Twitter account! Follow us at @ffblibrary