Peppermint Patty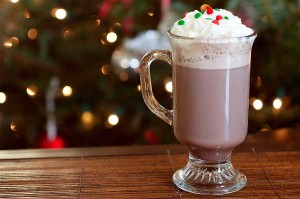 The first Saturday in December is a great day to get up early, eat a hearty breakfast, get bundled up, grab your saw and head to a local Christmas tree farm to find the perfect tree.  And when you get home, there's a fun way to warm those fingers, toes and tummies. That is where the Peppermint Patty Cocktail comes into play. Warm, chocolatey and minty, they make the perfect addition for your tree decorating day.
Ingredients:
2 cups milk
1/2 cup hot chocolate mix
1/4 cup peppermint schnapps, plus more as needed
whipped cream
sprinkles
Instructions:
In a saucepan heat 2 cups of milk over medium heat, just until steamy. About 5 minutes.
Once milk starts to steam whisk in hot chocolate mix. Continue cooking 2-3 minutes or until hot chocolate is desired temperature. Do not boil.
Remove from heat and whisk in 1/4 cup of peppermint schnapps. Taste. If desired, add more schnapps.
Ladle mixture into glasses, top with whipped cream and sprinkles.
Serve.
These would make a great addition to any Christmas party. Enjoy!