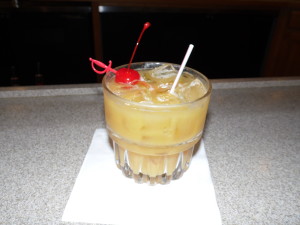 Fuzzy Navel
Put on your Members Only jacket and mix up this '80s classic. The flavor combination of juicy peach with a splash of orange makes a perfect luscious escape.
Ingredients:
4-6 Cracked ice cubes
2 measures vodka
1 measure peach schnapps
1 cup orange juice
Slice of orange to decorate
Preparation:
Put the cubes into a cocktail shaker.  Pour the vodka, peach schnapps, and orange juice over the ice.  Shake vigorously until a frost forms.
Strain into a chilled glass and decorate with orange slice.