The Daisy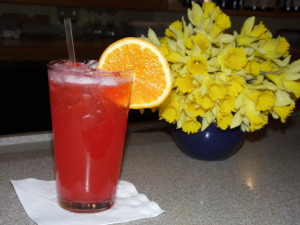 A refreshing classic for Spring, the Daisy cocktail is old school. It's been documented in recipe books as early as the last quarter of the 19th century, and likely consumed way before that. So take a sip of something smooth and refreshing, and know that good things, like the Daisy, endure the test of time. Enjoy.
Ingredients:
4 – 6 cracked ice cubes
3 measures gin
1 measure lemon juice
1 T grenadine
1 t. sugar syrup
Club soda to top off
Slice of orange to decorate
Preparation:
Put the cracked ice cubes into a cocktail shaker.  Pour the gin, lemon juice, grenadine and sugar syrup over the ice. Shake vigorously until a frost forms. Strain into chilled highball glass and top off with club soda.  Stir gently, then decorate with an orange slice.
 Sugar Syrup:
– 4T water
– 4T superfine sugar
Combine in a small pad and stir over low heat until sugar has dissolved. Bring to a boil. Continue to boil without stirring for 1 – 2 minutes.  Let cool.
Can be refrigerated up to 2 weeks