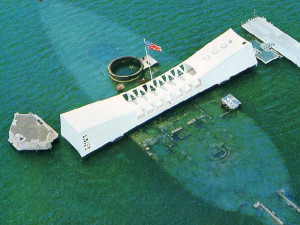 Frank Cabiness was one of the 300 men who escaped the inferno of the U.S.S. Arizona during the bombing by the Japanese on December 7, 1941. Serving as a reminder of his survival were his scarred hands, burned and severely blistered when he descended the ladder to abandon ship. The wrist watch he was wearing showed its hands frozen in time by the waters of Pearl Harbor at the moment he jumped overboard – 8:15 am.
Frank joined the Marines in September, 1940. He was assigned to the U.S.S. Arizona as a security officer, the usual role of Marines on a Navy ship. After his discharge in 1946, he was stationed in Corpus Christi, Texas, then after retiring from Amoco, he and his wife, Mae, moved to Fairfield Bay where he was active in the community; well-loved and respected by all who knew him. He served as president of a Pearl Harbor Survivors chapter in Arkansas for six years and kept in touch with other survivors of that fateful day.
On December 7, 2001, the 60th anniversary of the bombing, a flag pole was erected at the Fairfield Bay Library to honor Frank Cabiness for his service to our country.