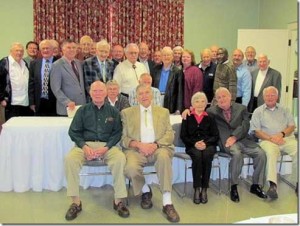 A special service was held Sunday, November 10, at the Kirk of the Hills honoring the Veterans who had served our country during World War II, the Korean Conflict and the Vietnam War. Many Veterans were in attendance representing the various branches of military service. Veterans in attendance: Edgar McCutcheon, Joseph Giannini, Ray Nelson, Jerry Thompson, Bob Berdine, Russ Sancho, Bob Worden, Don Hempstead, Don Rierson, Larry Luxon, Deon Pressley, Doug Young, Rev. Robert Hadley, Walter Mueller, Erling Rasmussen, Julius Moore, Elizabeth Moore, Brian Moore, Ted Brown, Lynne Harshbarger, Al Marron, Larry Mozer, Dean Luethje, Lois Sancho, Tom Berry and Richard Guyan.
The participants brought with them many mementos of their years of service, which were displayed throughout the room. Bob Worden displayed a Purple Heart and a Bronze Star, received in WWII. Don Rierson served the U.S. Air Force for 28 years, Rev. Robert Hadley served the Air Force for 23 years and Walter Mueller served in the Air Force for 21 years. This service brought back many memories for all those who served our country.
The Men's Club of the Kirk served breakfast to all who attended this event and a worship service followed. The program was well attended and helped to recognize our Veterans for the sacrifices they made in serving our country during these conflicts, as well as at peace times.