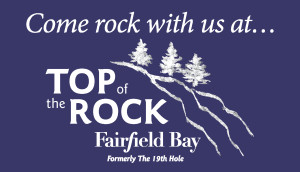 Top of the Rock will be opened New Year's Eve, December 31, 2013 for lunch, dinner and a ticket only Rockin New Year's Eve Party.
Our hours will be 11 AM – 2 PM for lunch;  4 PM – 7 PM for dinner.
If you are interested in going to the New Year's Eve Party, please contact Mary Baker for tickets and information.
Tickets are, also, available at Top of the Rock.
Roxie
TOTR
884-6001 or 901-233-8245 cell