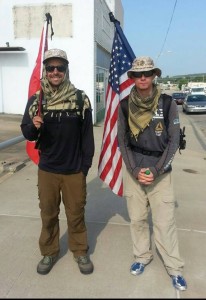 Fairfield Bay VFW will have the pleasure of honoring two former Marines who are walking across America to help raise awareness and funds for the Wounded Warrior Project.
Adam Shatarsky (left) and Chris Senopole (right), are scheduled to arrive in Little Rock on Friday, August 16, 2013. They left Camp Pendleton, Ca, on June 15, 2013 and hope to arrive at Marine Corp Base, Washington, DC, around October 1, 2013.
Chris Senopole, is a nephew to Tim and Kathy Hallett, (owners of our local bowling alley). Chris and Adam will be coming to Fairfield Bay on Saturday, August 17.
FFB VFW will be hosting a reception for these fine former Marines at our Post 4513, located at 2531 Highway 330 South, Fairfield Bay, on Saturday, August 17, from 3 – 5 p.m. with Karaoke beginning at 4 p.m.
Any donations to their cause will be used for this marathon walk expenses, and all remaining funds will be donated to the Wounded Warrior Fund. All are welcome to congratulate, encourage and support this wonderful project. Hope to see a great turn out!!