Saturday, August 9 at 2 p.m. and 7 p.m.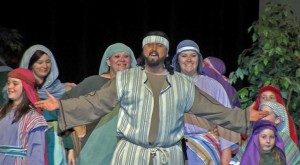 The Witness is the compelling musical drama of the Sacrificial Love of God displayed in life of Jesus of Nazareth as narrated and sung by the Apostle Peter with an accompanying chorus of Galilean villagers. This common fisherman gives you a glimpse into his own heart as he experienced Jesus' miraculous life, passionate crucifixion and triumphant resurrection from the dead. The musical was originally written by Jimmy and Carol Owens in the 1970's as a tool to bring the Gospel to countries that wouldn't admit missionaries but would accept a fine arts group into their country. It offers an entertaining, inspiring…for some a life-changing…time filled with rich music and spectacular drama. The Witness started basically as a prison ministry, and continues to reach out during their off-season to the state prisons with this dramatic musical. In 1985, the leadership of Hot Springs invited them to use the city amphitheater where the production became a tourist attraction for the community and the state of Arkansas. In 1997, that property was sold and Panther Valley Ranch approached The Witness about building an amphitheater in a peaceful valley on their property not far from Magic Springs. Representing over fifty Hot Springs area churches, the dedicated cast and crew have united in the presentation of the Gospel of Jesus through "The Witness" which is now in its 34th season. Many have said the production is unmatched in its realism and Scriptural accuracy.
Almost two years ago, as the production's 32nd season drew to a close, its board of directors believed positive changes and expansions were coming on the horizon. During the following months, its director, Judy McEarl, began feeling the inspiration to write new compositions for the production. The results were I'm Amazed, a stirring "annunciation" song/scene for the Virgin Mary role, Shout From the Mountains, an exciting, middle-eastern fanfare with full orchestration, trumpets and ram's horn and Eat This Bread, My Broken Body, a tender communion solo with lyrics reflecting Jesus' deep love for His disciples. These songs make a total of eight compositions that Ms. McEarl, who has been with the troupe since its inception 34 years ago, has written for the production. Soon, an indoor version of the production began to take shape and the troupe began to take it to communities outside of Hot Springs .
In addition to the new songs and scenes that have been added to the performance, many of the original songs were given fresh arrangements due to the collaboration of McEarl and Doug Lackey of Hot Springs. Mr. Lackey has arranged and produced music projects for various groups in the gospel music field over the past 25 years.
The Witness, Arkansas' Musical Passion Play, will be continuing its state-wide tour throughout its 34th season instead of presenting the production in its amphitheater in Hot Springs this year. The decision was prayerfully made by the troupe's board of directors recently. As they weighed the options and realized that sometimes God speaks directly through circumstances and opportunities, the decision to continue the tour was made.
Board President and Production Director, Judy McEarl, states, "We have been the state's musical passion play and presented the Gospel through song and drama in an amphitheater setting for decades. But as the Lord has lifted the production in ministry and quality through powerful original songs, fresh orchestrations, new scenes, special effects and stunning video backdrop, our indoor production has been very well received while on our tour the last few months. The audiences have loved it!! The fruit is good, and we are excited about this new path God is taking us on!"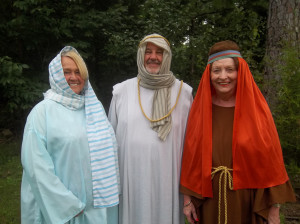 "As we anticipate coming to Fairfield Bay, our cast and crew are excited! We've made two "scouting" trips (the drive from Hot Springs to you is beautiful!) and have seen your Fairfield Bay Conference and Visitor Center; the heart of your community is evident as we heard the story of its renovation to the gorgeous venue it is today. And we do believe our production will fit beautifully into your facility as we bring in our stage props, costumes and tech/special effects equipment; Doyle Scroggins and Pastor Bob Hadley will be heading up the team for building props on your end! Fairfield Bay Baptist Church is providing food for the cast and overnight accommodations for the support staff. We are looking forward to the support and involvement of all of our area churches. It's a great joint effort for God's Glory!
We quickly recognized what jewels you have in Bob and Wilba Thompson and other civic and religious leaders in your area; you are truly blessed to have them! The Thompsons will be singing in the production, along with Cindy Wellenberger and Darrell Osborn, many others from your area will be joining us in the cast. We are delighted God has opened this door for us to be with you!"
For ticket information please call 501-884-4202 or come to the Fairfield Bay Conference and Visitor Center to purchase your tickets, Adults $20.00, Children $15.00.