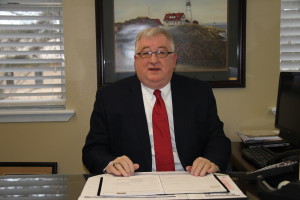 Ted Hall has been named Executive Director of White River Area Agency on Aging, Inc., according to Board President, James Miller. "I believe Mr. Hall's extensive professional background will prove invaluable to the entire WRAAA System. Mr. Hall understands the Agency Mission, which is to develop and coordinate a system of services designed to improve and enhance the quality of life of older persons by assisting them in living with dignity in the least restrictive environment. The Board is most pleased to have him leading the dedicated staff of WRAAA as they work to fulfill that Mission in the lives of seniors and disabled in our communities throughout the ten counties in the WRAAA Service Area."
Mr. Hall retired after 37 years in public education, serving as Superintendent of Southside and Batesville School Districts. He then worked 4 years with a local bank. Mr. Hall has been actively involved in the community; serving as Chairman of Christmas Brings Hope, a member of the Batesville Kiwanis, sits on the 4 H Foundation Board, White River Medical Center Advisory Board, Children of North Central Arkansas Advisory Council, United Way Board of Directors, active with the Batesville Chamber of Commerce and serves on the UACCB Foundation Board.
Mr. Hall's wife, Janie, is a veteran teacher. They have two children, Julie Dayberry and Jeremy Hall, both are teachers. Julie's husband, Brandon, is the Director of IT with the Southside School District.
WRAAA is a private, non-profit, one of eight in the state of Arkansas that serves the 60 and older and disabled population in providing information and in assisting them in accessing needed services. Some of the services offered by WRAAA are Care Management and In-Home Services, Personal Emergency Response Systems, Foster Grandparent Program and a Long Term Care Ombudsman. They are the managing agent for 12 complexes of HUD, subsidized Housing and they own and operate Eagle Mountain Assisted Living Center in Batesville.
Regional Offices for WRAAA are located in Batesville. Counties in the service area are Cleburne, Fulton, Independence, Izard, Jackson, Sharp, Stone, Van Buren, White and Woodruff.
Information on any program can be obtained by calling 1-800-382-3205 or visit the web site at www.wraaa.com.