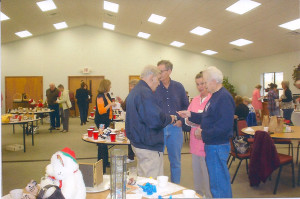 The Indian Rock Village Ways & Means Committee wishes to thank the many people and organizations who made our Teacup Auction Fundraiser such a success. First of all, we want to thank the Fairfield Bay Baptist Church for hosting this worthwhile event. The Auxiliary thanks IRV activity director Tara Morgan, her assistan,t Synthia Olive and the IRV staff, for all their help. And, more thanks to our Mayor, Paul Wellenberger and helpers who did an excellent job of moving things along quickly with the drawing and delivery of items. Most of all, THANKS to this community for their support! The bake sale, cakewalk, grab bags, Walmart gift card drawing, silent auction and the tea cup items brought in over $700.
Thanks to those who donated items for the silent auction: Collectors plates by the Baptist Church, artwork by Lea Berry and Alison Shreck, birdhouse and razorback pig by Dave Eddy, cross-stitched Christmas stocking by Maxine Woosley and a collector's doll. Thanks to our IRV Auxiliary members and the Baptist church congregation for all the many things you do to support this community We are very thankful for the founder's foresight, enabling our community to have a fine facility such as Indian Rock Village to care for the elderly and helping them to remain pillars of our community.
We look forward to seeing you again in February 2014 for the Potato Bake Fundraiser.