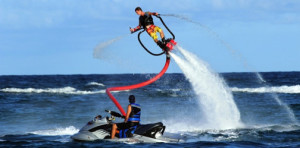 Fairfield Bay is making waves yet again this summer when they bring more extreme sports events to the North Shore of Greer's Ferry Lake. New this year is Paragliding, along with the return of the wildly popular WakeSurfing and FlyBoarding.
This June 13 and 14, step into the summer sun and out into the clear fresh water and take your turn at "Surfing" the big waves or "Flying" above them in a water-powered jet pack, known as FlyBoarding. Anyone can do it – from eight to eighty!
"Surf the Bay" will be held at the beautiful Fairfield Bay Marina. Free and open to the public, this event welcomes visitors of all ages to grab a board, jump a wave or "fly". Join the crowds in watching the professionals showcase their craft, or sign up and participate in three of the most popular and unique adventure sports in the country: WakeSurfing, FlyBoarding and Paragliding. If the waves get too extreme, there's plenty of other water and summer festival fun to be had.
Surfing is Back in Arkansas!
Join Stuckey & Grimes Xtreme Marine again this year, bringing WakeSurfing to Arkansas. It's the only way to catch big waves in a fresh water lake. Fun, big waves, no rope and no hard falls! This fast growing sport is getting everyone in the water, with its three to four feet swells.
Some of the most exciting boats in the industry will be available for attendees to enjoy, including Malibu, Axis and MB Sport. These boats will be set up to let participants experience the thrill of WakeSurfing and WakeBoarding. Pro WakeBoarder, Brandon Lackey, will be on hand to set up individual wake and surf lessons.
"Our team is eager to share our love for outdoor water sports and showcase an exciting way to enjoy a fresh water lake," says Rick Stuckey, owner of Stuckey & Grimes Xtreme Marine. If the waves get too extreme, make a real splash and try the popular sport of stand up paddle boarding (SUP). Stuckey added, "Stand up paddle boards offer a great way to take advantage of the water and get a fun workout at the same time. Guests can jump in and enjoy many of our friendly competitions going on throughout the day."
Hover, spray, fly!
FlyBoarding is the newest, popular, extreme, water activity and "Surf the Bay" was the first place ever to showcase FlyBoarding over freshwater. Don't miss this! "Like something out of this world, FlyBoarding is the use of a water powered jet pack to fly above water," said Gretchen Vance, of Aquafly. The propulsion power actually comes from below the user's feet, giving more of a skateboarding feel to the ride. Hand nozzles help to stabilize and manage power. Aquafly FlyBoard will have demonstrations Friday and Saturday. Lessons will be available for a discount.
Vance adds, "FlyBoarding is easier than you may think. Most people pick it up quickly. Our certified instructors will be at "Surf the Bay" to teach those interested."
Premier WaterSport Festival "Surf the Bay"
"Surf the Bay" is free and open to the public. All events and activities will be held again at the beautiful Fairfield Bay Marina on the North Shore of Greers Ferry Lake.
"Surf the Bay" will kick off with a big beach party Friday night, featuring live music, water games, dinner, refreshments and more. Activities start early Saturday morning, June 14. Enjoy food vendors, National Guard Sports Challenge Games, Belle of the Bay lake cruises, hiking at nearby Sugarloaf Mountain and plenty of outdoor activities on land and fun in the water.
Adding to the water sport activities – be sure to get in on the charity Poker Run on Saturday at the Fairfield Bay Marina – starting 9 a.m. Five marinas on Greers Ferry Lake will pull the hotly contested hand together. The cost is only $20 per hand to enter, with payouts split between first place and the Fairfield Bay Animal Protection League. Adding even more sport fun to the day will be the team from Ozark Mountain Trading Company, offering everything for family paddling fun! Canoes, kayaks and more.
"What will make this day like no other," says Paul Wellenberger, General Manager of the Fairfield Bay Community Club, "we'll be watching the thrilling stunts and tricks of some top professional skiers and see a man "fly," both above the water and high in the air. Nothing more exciting and freeing than "surfing" or "flying above" the waters of Arkansas. 'Surf the Bay' is perfect for families and individuals who want to enjoy everything the outdoors has to offer in Arkansas. From 8 to 80, you have to come try it."
New Conference, Arts & Visitor Center Offers Arts, Lodging and More.
Two Big Concerts to Round Out Your Weekend Fun. – 7 p.m.
If you're looking for some great evening entertainment off the beach… you won't want to miss these concerts at the Conference & Visitor Center: American Idol Contestant, Spencer Lloyd and The Roe Family Singers.
•Friday, June 13, 7 p.m. – Spencer Lloyd, Concert – American Idol Contestant.
•Saturday, June 14, 7 p.m. – The Roe Family Singers – Professional Hillbilly Musical Group.
Make it a Weekend Event So Stay!
Make the most of your time in beautiful Fairfield Bay and stay for the weekend. Your home base for information, vacation planning and relaxation.
• Reserve a boat, tee time or dinner?
• Plan a wedding, reunion or conference?
•Lodging for a week or a weekend?
Your personal concierge is able to do it all and more. For more information on "Surf the Bay" and to discover your "Someday" experience, visit www.FairfieldBaystartstoday.com/Surf, or call 501-884-4202.