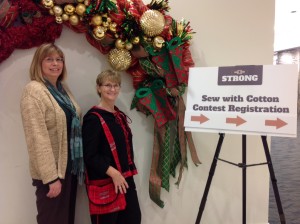 Sharon Keathley, resident of Fairfield Bay, represented Van Buren County in the state Sew With Cotton Contest & won $100 for 4th place in the adult sportswear division. Cindy Wilson of State Farm said they were very thrilled for her.
She made a really fun hooded Razorback outfit with coordinating purse.(naturally of 100% cotton). She modeled it at the Sew With Cotton luncheon/style show at the 2013 Arkansas Farm Bureau Convention.
Regina Chaney our county agent is in the photo with her. Regina coordinated our county contest.
"I entered the Sew with Cotton Contest after seeing it advertised in the Fairfield Bay News as a way to become more involved with community activities and meet some new people. The people from Van Buren County Farm Bureau and the Van Buren County Cooperative Extension Service were awesome! I was most amazed by the garments produced by the teenagers from various schools throughout the state. I would encourage everyone who is interested in sewing to contact the VBC Extension Office and sign up to participate in next year's competition. It really was a lot of fun! I would also like to say a special thank you to Danny and Hank for going that extra mile (or 150 miles!) to make my entry possible, said Sharon.