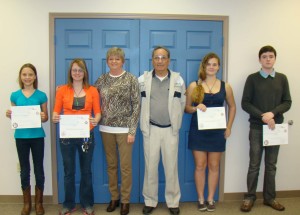 Pictured left to right; Katie Cruise, Sierra Huie, Patti Leitner, standing in for Chairwoman Marge Wright, Roy Madrid, VFW Quarter Master, Kiona Kuykendal and Seth Connell. Not picture is Gabriel and Matthew Alberg and Matthew Paullin.
Fairfield Bay Post 4513 and Auxiliary are proud to announce the winners of our National Voice of Democracy and Patriot's Pen Essay Contest. The theme for Voice of Democracy was "Why I Am Optimistic About Our Nation's Future." Our first place winner is Sierra Huie and second place is Kiona Kuykendall.
The theme for Patriot's Pen was "What Patriotism Means To Me." Our first place winner is Katie Cruise and second place was a tie between Seth Connell and Matthew Paullin.
Katie Cruise also won first place in District 6 in the state of Arkansas. Katie and her family will go to our convention, in Little Rock in June, to compete at the State level.