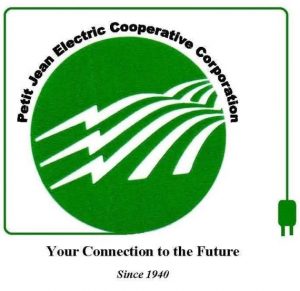 As part of its mission to provide safe, reliable electric service to its members, Petit Jean Electric Cooperative of Clinton has a right-of-way maintenance program that maintains more than 3,571 miles of electric distribution lines in Cleburne, Conway, Faulkner, Marion, Newton, Pope, Searcy, Stone and Van Buren counties.
In the next few weeks, the cooperative will begin its right-of-way (ROW) maintenance program for the Fairfield Bay area.
A right-of-way (ROW) refers to a strip of land underneath or around power lines that your electric cooperative has the right and responsibility to maintain and clear. Trees must grow at a distance far enough from conductors where they will not cause harm to individuals or cause a disruption to electrical service. Specifications can vary, but a general guideline of maintaining a safe ROW is 15 feet of clearance on either side of the primary conductors and 20 feet of overhead clearance above the highest wire on the pole.
ROW maintenance is critical to reducing outages and annoying blinks in our members' electric service.
An average of 15 percent of power interruptions occur when trees, shrubs or bushes grow too close to power lines.
If a tree encroaches on the defined ROW distance, Petit Jean Electric's vegetation management team will utilize Asplundh, a contractor, to trim branches and brush using chainsaws, bucket trucks, tree climbers, brush chippers and mowers.
The ROW maintenance program also keeps cooperative members safe by ensuring that tree branches do not become energized due to close contact with a downed power line. Power lines can carry up to 34,500 volts, and an energized tree branch is incredibly dangerous – even deadly. Be mindful when around trees close to power lines, and make sure your children know that climbing trees near power lines is extremely dangerous.
Remember to contact Petit Jean Electric Cooperative, if you decide to trim or remove trees near a power line and do not trim a tree in the right-of-way area.
Mulch left over from the chipping of brush will be made available to residents from the Community Club. Please contact Utilities to make arrangements for pick-up.