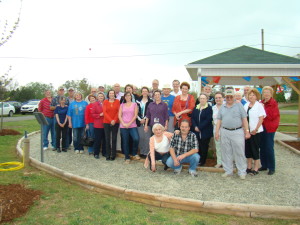 Who would ever believe that a Recycle Center could become a tourist attraction? Thanks to the work of many volunteers and grant support from the White River Planning and Development District (WRPDD) and Arkansas Department of Environmental Quality (ADEQ), what started as a stake in the ground with a big circle around it, last summer, is what you see in the pictures from the Grand Opening of the Recycle Education Center.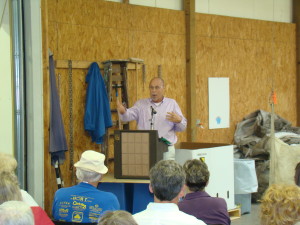 The speakers for the event were Mayor, Paul Wellenberger, WRPDD Recycle Center coordinator, Sarah Sexton, and the ADEQ Market Development Branch Manager, Robert Hunter (pictured right).
28 years ago, Harold and Sigrid Hippe, working with the Fairfield Bay Lions Club, began a recycling program that, 10 years later, would bear their name. How proud they would be to see their concern for this Earth that God created and their community grow into a spectacular recycling center and now a terrific education center that not only promotes recycling but looks into the future of sustainability and being green. We were honored with the attendance of their daughter, Nancy Hippe, at the ceremony.
There were many to thank, including: John Edmiston and the Recycle Center board, the Recycle Center volunteers- who are the backbone of the program, Ron and Linda Milligan, who with Jim Morris, designed and constructed the pavilion, Jo Calaway from Mountain View who designed the informational signs around the path and Joanne Lausin, who interfaced with the Arkansas Correctional Institution to have them made, Steve Sutay for constructing the solar powered water pump and the new video display equipment, Steve Adams for designing and building the new storage room for storing the equipment, Dallas Clark for helping in all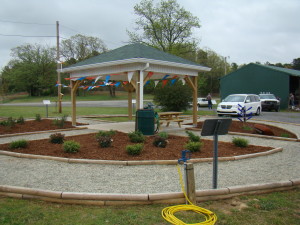 the construction tasks, the Master Gardeners, lead by Annalee Culp, for the beautiful landscaping as well as Jamie Lewis, for a quadrant featuring special recycling structures you have to come see, Little Rock Air Force Base for the donation of crushed and tumbled glass used for the pathway (glistens like diamonds in the sun after a good rain), Community Club Utilities for transporting the glass from Jacksonville and the citizens of Fairfield Bay, who recycled an astounding average of 105.53 pounds per person without any curbside pickup. We also want to acknowledge the donation of plants from The Plant Outlet in Conway, Shaw's Landscaping in Greers Ferry and Jamie Lewis.