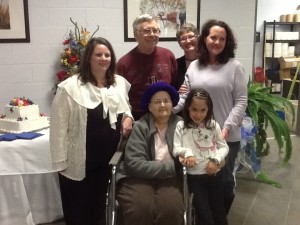 Peggy Cottey, Shirley High School English Teacher, was honored on Monday January 27, 2014 by Shirley School, the city of Shirley and Channel 4 news in Little Rock.
Shirley School District hosted a retirement breakfast for the 35 year teacher in the high school rotunda. Over 150 of her former and current students, colleagues, and community members were there to honor Mrs. Cottey. Mayor Johnny Sowell and the city of Shirley proclaimed January 27, 2014 as Peggy Cottey appreciation day in the city.
Natalie Walters, Channel 4 meteorologist, was in attendance to surprise Peggy with a 2014 Channel 4 outstanding teacher award. She had been nominated by 42 of her current and past students, colleagues and parents of students. In emails to Ali Brown, producer at the Channel 4 Today show, students had described Mrs. Cottey as spunky; while teachers looked up to her as a mentor and a leader at Shirley High School. The parents wrote that Mrs. Cottey really cared about all of her students. They were treated as young adults. Many wrote that Mrs. Cottey taught more than grammar and literature; she taught about life.
Members of Mrs. Cottey's family that were in attendance for the celebration include Jim Cottey, husband; Jamie Cottey Wood, daughter; Jenifer Cauley, Niece; Vivianne Cauley-Alonzo, Great Niece; and Terry Cauley, Sister.