T.H.U.G.s Kick Butts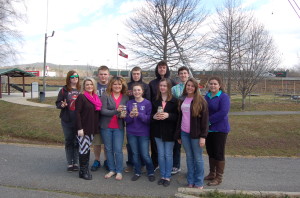 On March 24, the Clinton High School T.H.U.G.s (Teens Having United Goals) teamed up with the Van Buren County Tobacco Prevention Coordinator, Tracie Stobaugh, for Kick Butts Day.
The group picked up cigarette butts at the Main Street Park in downtown Clinton. Their collection filled 3 quart jars in only 15 minutes! This was surprising as most of the cigarette butts were found in the playground area where children play. Please remember, even in the outdoors, there is no safe level of second hand smoke.
After the collection, the T.H.U.G group was treated to a lunch with the Van Buren County T.E.A. Coalition and their collection efforts were displayed and discussed with the group.
For more information on tobacco prevention, please contact the Van Buren County Tobacco Prevention Coordinator, Tracie Stobaugh at 501-745-7004 ext 103.
Tracie Stobaugh
Van Buren County Tobacco Prevention Coordinator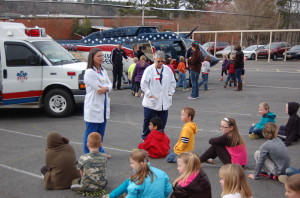 Emergency Education at Clinton Elementary…On March 21, the Ozark Health Emergency Department's own, Kim Hall, RN and Brooke Keith, RN teamed up with the Air Evac Lifeteam and Southern Paramedics to educate the children of Clinton Elementary School on emergency health care. The children were able to ask questions and learned about the jobs of the paramedics and nurses and they even got to walk around the Air Evac Lifeteam helicopter and take a tour through one of the Southern Paramedic's ambulances.
Bass Tournament Draws 52 Boats
On the morning of March 22, fishermen from across central Arkansas gathered at Devil's Fork Recreation Area on Greers Ferry Lake to compete in the 7th Annual Ozark Health Foundation Bass Tournament. The one day tournament drew 52 boats and raised almost $3,000 toward the purchase of equipment and furnishings for the expanded areas of Ozark Health. The winners of the $1,500 Grand Prize, with five fish weighing 14.74 pounds, were Cody Davis and Royce Davis. The other four place winners were; 2nd place Travis Galloway, 3rd place Joe & Pat Newman, 4th place Rick Cothren and Gary Jeffrery, and 5th place Marty Pratt and Brent Stark. With a 7.72 lb largemouth bass, Charlie Swaffar won the $200 Big Bass Prize.
The Foundation would like to thank tournament chair, Amanda Newman, Greers Ferry Lake BassMasters, and event sponsors, Arkansas Eye Care Group, Dr. Steve Schoettle, First Service Bank, Lynnette Collums, Mallard Ready Mix, Jewel Jig, Fish N' Stuff, ESS, Bentley's Restaurant, J's Marine Supply, Frank's Hickory House, US Foods and Petit Jean Electric.