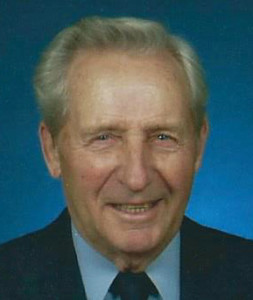 Robert Schrage, 90, of Allison, passed away Tuesday, August 5, 2014, at the Rehabilitation Center of Allison.
Memorial services for Robert Schrage will be held at 10:30 AM on Saturday, August 9, 2014, at the St. James Lutheran Church, 421 North Main Street in Allison, with Pastor Jeff Blank officiating. Visitation will be held one hour prior to services at the church. Graveside services will be private.
Robert Ernest Schrage was born on March 24, 1924 to E.W. and Hermine 'Minnie' (DeBower) Schrage in rural Allison. He started his schooling at the Walnut Grove County School near the family farm and graduated from Allison High School in 1942.
Robert was united in marriage to Gwenyth A. Harrenstein on April 14, 1946 at St. Peter's Lutheran Church in Greene, Iowa.
Robert was drafted into the United States Marine Corps but was asked to serve his country by staying home and helping with the crop production. Farming continued to be his career until he retired at the age of 54. Even though Robert was retired, he found many ways to keep himself busy. He moved to Fairfield Bay, Arkansas and became a fishing guide. Robert was best known as 'Bobcat Bob' for his skid loader business he ran until he was 85.
Having a knack for engineering, Bobcat Bob built many attachments for his skid loader even before Bobcat manufactured them. He said, "I have never turned down a job within a hundred mile radius and have never had an unhappy customer. In the 33 years that I have operated a Bobcat, I have logged over 10,000 hours. I have loved every minute of 'bobcatting' and that's why I am called 'Bobcat Bob.'"
In addition to his careers, Robert had a variety of interests and hobbies. He was an accomplished wood carver, winning second place two years in a row at the Iowa State Fair out of 80 contestants. He held a private pilot license, buying his first plane at the age of 19 with his brother, Lester. In 1973 he received the Iowa Master Pork Producer title.
Robert served on many boards over the years including: St. James Lutheran Church Council, Butler County 4-H Youth Council, Butler County 4-H Judging Team, and the National Belgian Horse Judging Team.
Robert is survived by his children, Steven (Linda) Schrage of Lake Cornelia, Iowa, Mark (Susan) Schrage of Bristow, Iowa, and Dawn Manders of Bigfork, Montana; grandchildren Brooke (Lee) Duncan of McCall, Idaho, Lynn (Marlon) Vander Heiden of Dixon, Iowa, Sarah (Jason) Gersema of Center Point, Iowa, Justin (Becky) Schrage of Allison, Iowa, and Ashley (Aaron) Buck of Waterloo, Iowa; sister-in-law, Ann Schrage of Allison, Iowa; 13 great-grandchildren, and many nieces and nephews.
Robert is preceded in death by his parents; his wife, Gwenyth in 1971; two brothers and two sisters.