Barbara Wing, of Fairfield Bay, Arkansas, passed away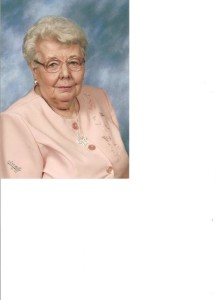 August 14, 2014 at Indian Rock Village, at the age of 89. Born August
28, 1924 in Great Falls, Montana, she was the daughter of the late Henry
Fox and Cora Stav Fox.
The Fox family left Montana, and moved back to Northfield Minnesota in
1926, where Barbara lived until moving to Austin, Minnesota in 1957. She
was employed by First National Bank in Northfield, and was employed by
First Bank Austin, until her retirement in 1981. Barbara was married to
Alvin Reynolds, and later Maynard (Gene) Wing, both deceased.
Barbara was a member of St. John's Lutheran Church, Northfield MN., St
Olaf Lutheran Church, Austin MN, and Peace Lutheran Church, Edgemont,
Arkansas
.
She is survived by two daughters. Cynthia Reynolds Bellrichard of
Fairfield Bay, Arkansas, and Debra Reynolds Youngmark (Robert) Lutz ,
Fairfield Bay, Arkansas, three step-daughters, Laura Jean Wing (Alfred)
Bourquet, of Tucson AZ, Claudia Wing Perot, of Beaverton, OR, and Berri
Wing (Larry) Hartwell, of Burnet, TX., grandchildren, and great
grandchildren. She is also survived by one sister, Margaret (Fox)Auburn, of Northfield, MN.
Funeral arrangements entrusted to the care of Clinton Funeral Service. To sign Barbara's Book of Memories, please go to www.clintonfuneralservice.com.