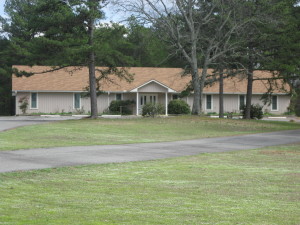 A new non-profit umbrella group, "Cornerstone Outreach Ministries," now calls home in what used to be Cornerstone Evangelical Church, Fairfield Bay. COM will serve Van Buren County and will bring other Christian non-profit organizations together to help meet the needs of county residents. The organizations are: The North Central Disaster Relief Team, The CALL, The Children's Station, Choctaw Food Bank and Manna. This is a brief description of the mission and outreach of each organization.
NORTH CENTRAL DISASTER RELIEF TEAM: Is a group of men and women who work together in and thru the Southern Baptist Association, in Van Buren County, to aid and assist in the time of need in the event of a tornado or other natural disaster. The team assists the families by helping to cover roofs, remove obstacles, find shelter for families and supply immediate needs. This group will be using the Cornerstone Outreach Ministries facilities to store supplies and hold meetings.
THE C.A.L.L. is "Children of Arkansas Loved for a Lifetime." It's mission is to recruit, train and equip Christian foster parents in Van Buren County. Members go to churches to explain the desperate need for people of God to step up and help take in the county's children. Currently, there is only one foster home in the county, with over sixty foster children needing placement.
THE CHILDREN'S STATION: Is an outreach ministry that works hand in hand. with The CALL of Van Buren County, to aid and assist foster parents, as well as others, in need of clothing, shoes, coats, blankets, diapers and health & beauty aids. Both these organizations work together to provide such items as backpacks for school children. The items will be stored at the Cornerstone Outreach Ministries facilities for the families in that area. The current project is collecting items to fill "Tornado Tubs," which will be ready to distribute in the event of another storm.
CHOCTAW FOOD BANK: It's purpose is to supply food to the needy families of Van Buren County. The main location is in Choctaw, but will be using the COM building to collect and store food. Items are then distributed to the families in the Shirley and Fairfield Bay areas by working with the Shirley School.
MANNA: Is a group from the United Methodist Church in Fairfield Bay who supports Van Buren County families who may be in need of clothing and household items. The Cornerstone Outreach Ministries wishes to thank the members of the Cornerstone Evangelical Church for donating the building for the purpose of doing God's work in Van Buren County.