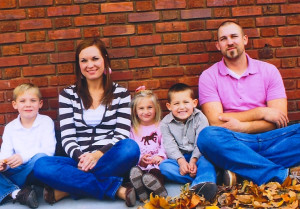 Maranatha Assembly of God will be observing Pastor Appreciation Day on Sunday, October 13, 2013. Honored will be Pastor Jorn and Alicia Holt and their family, Ruston (9), Jase (7) and Karli (5). Guest speaker at the morning service will be Rev. Lee Brown of Heber Springs.
The Holts have ministered at Maranatha since 2001. Prior to tha,t they were in youth and worship ministries at Assembly of God churches in Rosebud, Searcy and Heber Springs. Alicia is also employed as a second grade teacher at Shirley Elementary school.
The Holts will be honored at the a.m. service and a pot-luck fellowship meal will follow the service. Maranatha's schedule for Sunday school for all ages is at 10 a.m. and morning worship service at 11 a.m.
Everyone is invited to be part of this service and the fellowship meal. Maranatha is located approximatley 1.5 miles west of the main Fairfield Bay entrance.