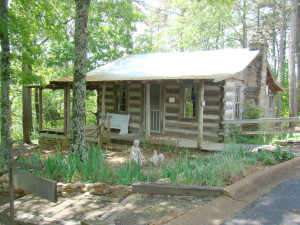 Marilyn Robertson is the new Director of the Log Cabin and Museum. The Log Cabin Museum was built in 1976 as the Bicentennial Project for Fairfield Bay. It was financed by State and Federal grants and matching funds from the FFB Community Club and land donations from Fairfield Communities Land Company. It was erected by an all-volunteer labor force of FFB citizens. The Old Log Cabin gives us a taste of home life in the late 1800's.
There is room in the Log Cabin to loan/donate treasured items from the past. Please contact Marilyn Roberton at 501-581-1638 if you have any items of interest. Marilyn is compiling a list of items that are currently at the museum. If you have donated items in the past and they are displayed at the Log Cabin and Museum, please stop by to identify the items as donated or on loan. There is a scrapbook from previous years that she would like to know the names of the people in the pictures. Please stop by and help her out on this project.
The "new hours" for the Log Cabin and Museum are: Mon-Thurs 10-2 Friday 1-4 Sat and Sun 10-4 The "Questers" Indian Rock Chapter have volunteered to help work on Mondays and Fridays as their community project. Many other volunteers are needed with the extended hours. Please call Marilyn Robertson at 501-581-1638 if you can help out.